Arjay Stevens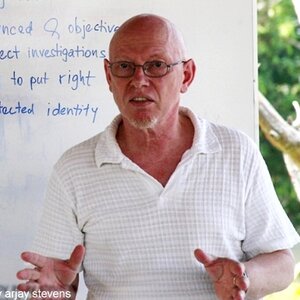 Rainer J."Arjay" Stevens (b. April 1945, Bingen, Germany) is an independent photographer and researcher who has been covering Cambodia's cultural and artistic heritage since the mid1990s..

A bioscientist and pharmacist by trade, Arjay Stevens developed a passion for p, hotography since childhood. After landing in Phnom Penh for the first time in 1996, he noticed several long boats being hauled on the road from the airport fo the Tonle Sap River, and immediately started snapping photos.
Exploring Cambodian culture and history, he worked on a large photographic book dealing with the 192 painted panels depicting scenes from the Reamker (the Khmer version of the Ramayana epic) at the Royal Palace's Silver Pagoda [1] -- The Reamker, Phnom Penh, 2002, with texts in Engl;ish, French and German. He also published Apsaras: Heavenly Dancers (PubliArt, 2012) and The Art of Silk (River Books, 2020). His interest in Khmer classical dance led to an exhibition dedicated to the legendary Royal Ballet dance misress Em Theay in 2016.
After calling Phnom Penh his home for more than two decades, Arjay Stevens decided to move back to Berlin, Germany, in 2023. His farewell exhibition, Look Up! (dealing with vintage billboards and shop signs), was held in March 2023 at Aroma Gallery.
[1] There are only three extensive visual artistic renditions of the Reamker story in Cambodia: the one at Phnom Penh Silver Pagoda, the frescoes of Phnom Chisor Pagoda and the painted panels at Wat Bo (Siem Reap).