Allen Ginsberg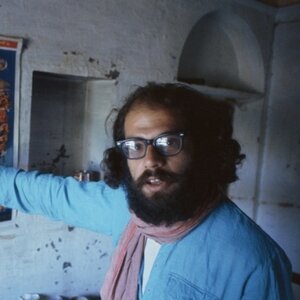 Irwin Allen Ginsberg (3 June 1926, Newark, USA - 5 April 1997, New York) was an American poet, writer and social activist, initiator of the Beat Generation movement with William S. Burroughs and Jack Kerouac, and a perceptive explorer of Hinduist and Buddhist cultures, especially after his first trip to India (and Cambodia) in 1962-1963.
Born from Jewish parents who immigrated from Russia and had a lasting influence on his writing (his 1984 edition of Collected Poems was dedicated "To Naomi Ginsberg 1894–1956, Louis Ginsberg 1896–1976"), Ginsberg sought to reconcile transcendentalism and mystical quest with social responsibility, including the defence of racial and sexual minorities, environmentalism and libertarian aspirations.
Traveling the world, from South America to the Soviet realm to Japan to Africa (he visited sixty-six countries since his first journey abroad as a young Merchant Navy sailor, according to biographer David S. Wills), Ginsberg was an outspoken critic of American expansionist stance, to the point he was listed on the FBI Dangerous Subversive Internal Security list in 1965, as well as censored for "obscenity" for several of his compositions, such as Howl (1956) and Kaddish (1961).
Unlike Kerouac, who had studied Buddhism as early as 1950 but went to another path, Ginsberg was profoundly influenced by his visit to the Dalai Lama in Tibet, his travels across India and the Far East, and later on with his friendship with A.C. Bhaktivedanta Swami Prabhupada, the founder of the Hare Krishna movement in the West. His conversion to ("non-theistic", as he stressed it) Buddhism in 1972 did not refrain him to search for transcendence in other religions.
Deeply fascinated with the musicality of words, he worked with famous musicians (John Cage, Bob Dylan, Paul McCartney, The Clash, Phil Glass...) and was prone to public chanting sessions, often accompanying himself on the harmonium he had brought back from his stay in Benares (Benaras). This trait was particularly important in his attempt to build a bridge between the Beat and Hippie countercultures.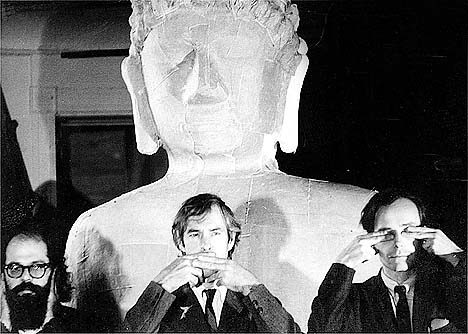 Allen Ginsberg, left, with Timothy Leary and Ralph Metzer during the New York 'Illumination of the Buddha' event in November 1966 (photo AP/NYT)
Listed works