Anthony Bourdain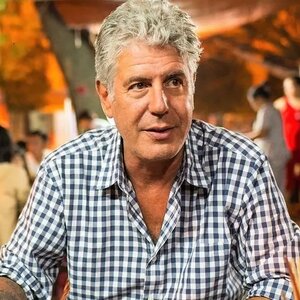 Anthony Michael "Tony" Bourdain (25 June 1956, Manhattan, NYC, USA - 8 June 2018, Kaysersberg-Vignoble, France) was an acclaimed food and travel writer, food explorer, ex-prep cook and ex-chef, who portrayed the planet, its people and their culinary habits (or quirks) while relentlessly traveling the world for his TV shows (200 days on the road per year, at the peak of his activity).
Unafraid of raising political issues -- he foresaw the 2022 military invasion of Ukraine ordered by Russian potentate Vladimir Poutine --, nor poking fun at American TV "celebrity chefs", he often addressed his personal demons in his CNN show Parts Unknown -- a series that ran from 2013 to his death by suicide while he was shooting one more episode in France --, openly referring to his past drug addiction and his bouts of depression. Some parts of the world, or the specifics of its inhabitants, triggered highly emotional response, like when he consulted a psychoanalyst in Buenos Aires, or when he discovered that some tourist operators in Sicily threw frozen cuttlefish in the sea to give tourists the illusion that they were actually fishing when scuba diving.
In the Parts Unknown episode about Jerusalem, he commented his Jewish identity ("not a religious but an ethnic one", as her mother was Gladys née Sacksman, from a non-religious Ashkenazi family), while in the episode on Paraguay he attempted to track back one of his ancestors, Jean Burden or Bourdain, who emigrated from France -- as did Bourdain's paternal grand-parents to New York -- and vanished there in the second half of the 19th century. Remarking that his own father had passed away when he was 52, he wondered if he would last much longer. On his last TV interview (with Fast Company, released 9 June 2018), he noted that "the biggest failure of our show has been no6 to give enough exposure to women's worldview and experiences."
While his family and educational background pushed him towards French cuisine -- his portrait of Paul Bocuse and other renowned Lyon chefs was a monument in reverential and loving admiration --, he was eager to explore as many cultures as he possibly could, with a particular fondness for Vietnam. His exploration of Americana was equally passionate and critical, and in his report on the decay of Detroit as a city and the symbol of industrialist optimism he drew comparison between the decline of 'Motor City' -- or 'Motown' -- and the one of the Angkorean empire and city.
Author of several books devoted to food and food culture -- Kitchen Confidential: Adventures in the Culinary Underbelly (2000) and Medium Raw (2010) were New York Times bestsellers, he also authored works of fiction, including the crime novels Gone Bamboo and Bone in the Throat.
In Tokyo with Japanese hard rock musicians, 2015.