Bela Kalman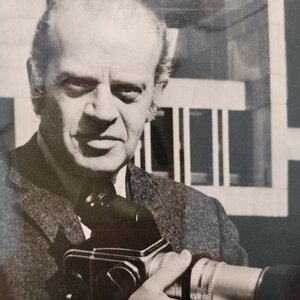 Béla T. Kalman (29 July 1921, Budapest, Hungary -- 26 June 2011, Boston, USA) was a renowned photographer and a mentor to many younger photographers who contributed to several illustrated books, including Indian Country: America's Sacred Land (with texts by Tony Hillerman).
With an inclination to visual arts and theater, he completed his studies in 1943 but was sent with his brother to a Nazi labor camp, from which they escaped. He fled his Soviet-occupied country in 1956, first to Austria before an aunt in Chicago sponsored his coming to the United States. Working as a photographer for Life magazine, he moved to Boston in 1962, having his first exhibition there in 1964.
Given the title of master by the International Federation of Photographic Art in 1984, he produced many artworks through the lens -- which he called his "third eye'', and his work is now included in the permanent collections of some 18 museums. After opening the outlet Studio 350 in Boston, he swiftly transitioned from traditional to digital photography.
Working on Angkor and other temples in 1974-1975, he fulfilled "one of my dearest dreams", noting: "The ruins of Angkor have always fascinated me [...] I photographed Angkor just prior to Cambodia's involvement in the Indochinese conflict; since then, it has been closed to visitors. I was thus one of the last fortunate enough to view these extraordinary monuments."