Chan Moly Sam
Sam Chan Moly (28 Oct 1953, Phnom Penh, Cambodia-) is a Cambodian researcher, teacher, and performance artist based in the USA.
After studying at the Royal University of Fine Arts under dance master Chheng Phon and ballet mistress Chea Samy, Chan Moly and husband Sam Sam-Ang fled the Khmer Rouge terror regime to the United States. In 1986, they both formed the Apsara Ensemble, the first Cambodian performing-arts ensemble in America. The group was joined by another Khmer classical dancer, Sam-Oeun Tes, 'Rady' (b. 21 Nov 1951, Phnom Penh).
Her book Khmer Court Dance: A Comprehensive Study of Movements, Gestures, and Postures As Applied Techniques (Khmer Studies Institute, 1987, 978-0941785013) has been a reference for numerous researchers.
Sam Sam-Ang (8 Jan 1950, Pursat Province, Cambodia -) is an ethnomusicologist, teacher, researcher, and performance artist. Sam-Ang earned a BA and an MA in composition and later a doctorate in ethnomusicology from Wesleyan University in Middletown, Connecticut. In addition to the Apsara Ensemble, he founded the Sam-Ang Sam Ensemble, which he has used as a platform to help revive Classical Khmer music and increase public interest in Cambodian performing arts.
The Ensemble was named NEA National Heritage Fellow in 1998, in Fort Washington, Maryland, USA.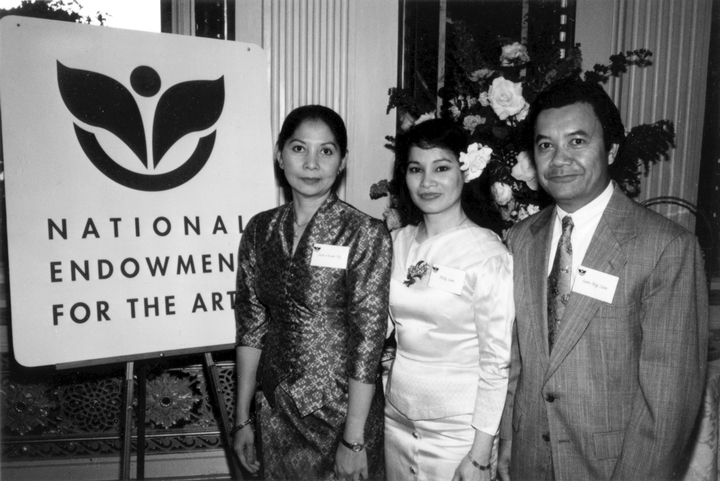 From left to right, Chan Moly, Tes, and Sam-Ang (1998)