E. E. Ukhtomsky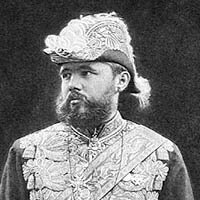 Prince Esper Esperovich Ukhtomsky (князь Эспер Эсперович Ухтомский, 26 Aug. 1861, Orianenbaum, Imperial Russia – 26 November 1921, Detskoe Selo) was a poet, publisher and Oriental enthusiast in late Tsarist Russia. He was a close confidant of Tsar Nikolay II and accompanied him when we as Tsarevich (future Emperor) on his Grand tour to the East.
Ukthomsky related in detail the official journey in Путешествие на Восток Его Императорского Высочества Государя Наследника Цесаревича, 1890—1891, a richly illustrated book collection which was published in Russian from 1893 to 1897 (the later volumes are entitled Путешествие Государя Императора Николая II на Восток, 1890—1891.
The initiatory odyssey of the Cesarevitch started with Egypt, then India, Ceylon, Southeast Asia, China, Japan, and back to Vladivostok, the 'Star of the East', where in March 1891 Nikolay (Nicholas) inaugurated the construction of the Trans-Siberian Railroad to link Moscow to the Russian Far East.Later on, Ukhtomsky was appointed to the role of court chamberlain, and served on the Siberian Railway Committee.
Like many of his learned contemporaries in Europe, Prince Ukhtomsky combined his attraction to the Far East with a deep interest for the occult and esoteric. Hostile to the influence of 'Western imperialism' in Asia, he claimed the "Asianness" of Russia, and advocated for close relations with China, although his views of Asian people were often tainted with racial prejudices.
His travel books were illustrated by noted artist Nikolay Nikolayevich Karazin (Никола́й Никола́евич Кара́зин,1842-1909).

Listed works