Emile Gsell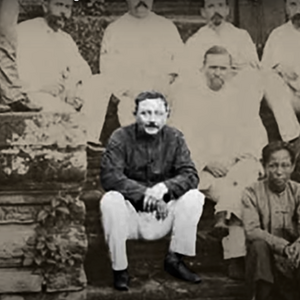 Émile Gsell (30 Dec 1838, Sainte-Marie-aux-Mines, Haut-Rhin, France - 16 Oct. 1879, Saigon (now Ho Chi Minh Ville,Vietnam) was a self-taught French photographer who produced among the earliest photographs of Angkor Wat when he joined the Mekong Exploration Expedition led by Ernest Doudart de Lagrée in September-November 1866 as a young Navy saikor.
Recommended for his photographic skills to other French explorers of Indochina, Émile Gsell joined the Louis Delaporte expedition to Angkor in 1873, then the Brossar de Corbigny mission in 1875. He documented archaelogical sites, the Royal Court of Cambodia, dancers and musicians, and the daily life of Cambodian, Vietnamese and ethnic communities, becoming the first commercial photographer based in Saigon. His photographs were marketed by Auguste Nicolier, who sold chemicals and photographic supplies in Saigon from 1876, and after his death by O. Wegener and Salin-Vidal.
Nowadays, Emile Gsell's work is seen as a major photographic source on the history of pre-colonial and early colonial Cambodia and Vietnam, in particular Saigon (Ho-Chi-Minh-Ville), along with the photographs by Pun Lun (1864–1900), Aurélien Pestel (1855–1897) and Võ An Ninh (1907–2009). Modern Vietnamese historians state that Emile Gsell was the first photograph ever to portray a woman in Tonkin ("Tonkin" is a Western rendition of 東京 Đông Kinh, 'Eastern Capital', the name of the capital city of the Lê dynasty (present-day Hanoi). Locally, Tonkin is nowadays known as miền Bắc, or Bắc Bộ (北部), 'Northern Region'.)
As most of photographers of his time, Gsell never allowed his portrait to be taken. However, researcher Patrick Kersalé was able to identify Gsell in a group photography taken in front of Angkor Wat during the Doudart mission.