Gerald F. Kelly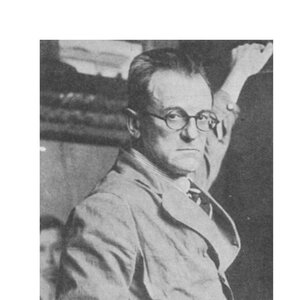 Sir Gerald Festus Kelly (9 April 1879, London – 5 Jan. 1972, Exmouth) was a Irish-British illustrious painter known for his portraits (including those of King George VI and Queen Elizabeth the Queen Mother), and for his graceful depictions of Southeast Asian princesses and female dancers.
Born into a wealthy family, Gerald Kelly went to Eton College and Cambridge before moving to Paris to study art. There, he met many notorious artists, such as Rodin and Cézanne, and befriended British writer Somerset Maugham.
After his failed love affair with a Montmartre French dancer, Maugham -- who was to reflect Kelly in various of his fictitious characters, for instance as Lionel Hillier in Cakes and Ale and as Frederick Lawson in Of Human Bondage -- encouraged him to travel to Burma (now Myanmar) in 1908. Kelly thus went to Southeast Asia before Maugham himself, and on the boat over met an Old Etonian appointed as District Judge of Mandalay. Enchanted by the "gorgeous landscape, and how sweet the women and children were" during his stay from November 1908 to April 1909, he painted a vast amount of post-impressionist landscapes and Burmese dancers portraits.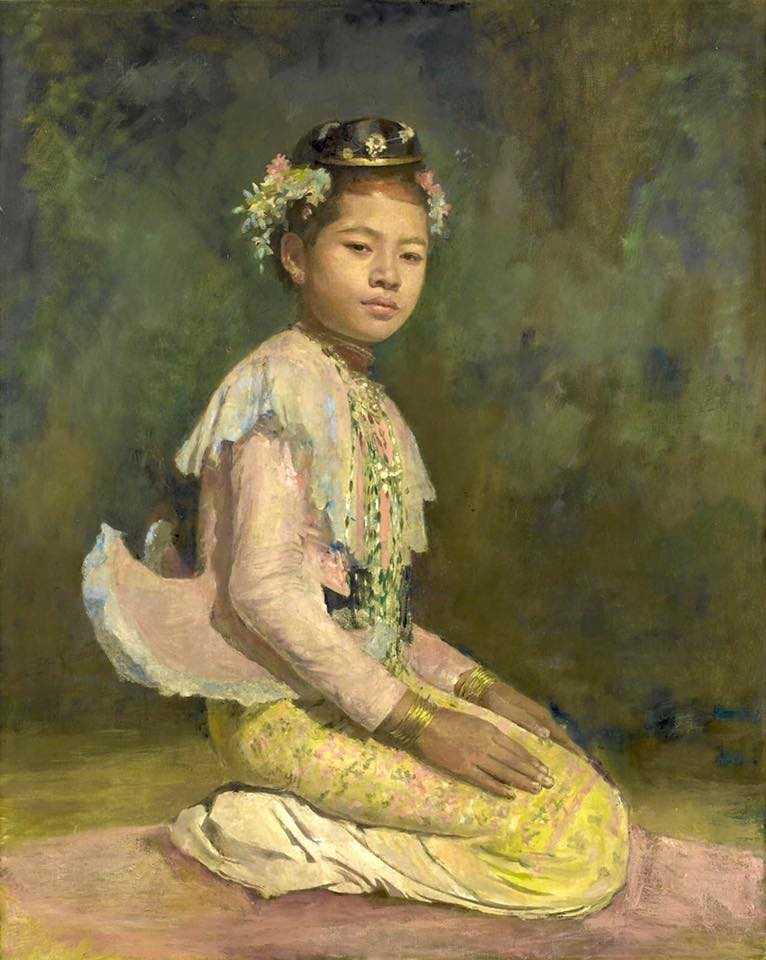 Burmese Dancer, circa 1909
In Rangoon, he was the guest of Daw Mya May (the wife of nationalist U May Oung), a well known socialite and patron of the arts. It was likely in her house that he met the Burmese dancers Ma Si Gyaw and Ma Sein Nu. But it was back in London, in 1931, that he met and painted the Shan Princess Sao Ohn Nyunt. The young lady, who had traveled for the Roundtable Conferences on Constitutional Reform in Burma and India, was "bored to tears" by England and its abominable weather, according to Kelly (quoted in the 2014 Christie's Catalog), yet her portrait established his reputation as a major Orientalist painter, and to these days reproductions remain popular across the Commonwealth.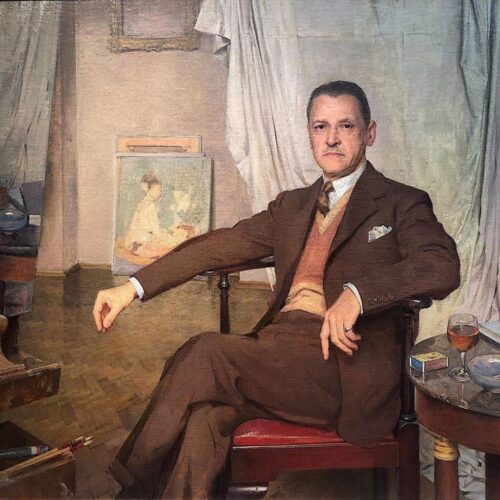 Somerset Maugham with the portrait of Princess Sao Ohn Nyunt in the background, by Gerald Kelly (NPG)
With wife Lilian Ryan, a model Kelly had married in 1920 and who was his official muse under the name of Jane, the artist traveled extensively, from Spain to the Americas. Their world tour in 1936-1937 brought them to China, Vietnam, Japan and Cambodia, where Kelly rekindled his passion for dancers, portraying several female performers of the Royal Ballet in Phnom Penh.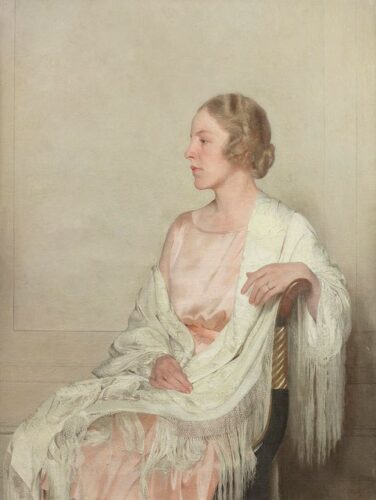 "Portrait of Jane With a White Shawl", 1921
A favourite painter of the British Royal Family, he was the President of the Royal Academy of Arts from 1949 to 1954, after being knighted in 1945. Congenial and caustic, Sir Gerald was never "academic", though, and the painting he presented as Queen Elizabeth II's Coronation Gift in 1953 (RCIN 923040 in the Royal Collection Trust) was titled "Sem, A Cambodian dancer".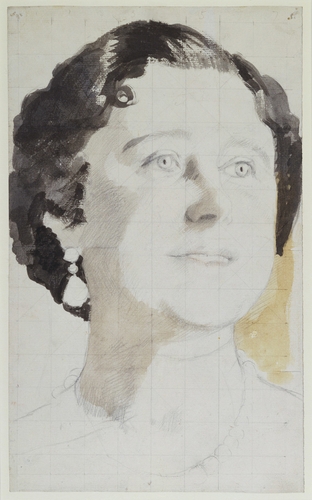 Sketch for the portrait of Queen Elizabeth the Queen Mother (NPG)
Also working as a TV presenter, Sir Gerald continued to paint until in his 90s, when his deficient eyesight forced him to give up the brush. His personal archive kept as the National Portrait Gallery of London reflects the way he researched his compositions, taking photographs during his travels, collecting postcards and sketches...Dance and female dancers remained a major theme in his body of work: during his numerous trips to Spain, for instance, he painted in Seville "Consuelo, A Seville Chorus Girl". Sir Gerald always made a point in naming his dancing subjects, an acknowledgement of their status as "true" artists.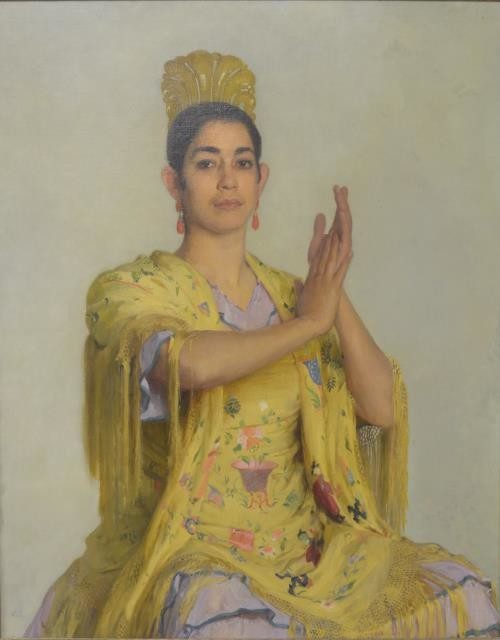 Seville Chorus Girl Consuelo, V11, c. 1920
Author's photo: Myanmore