Grigory de Vollan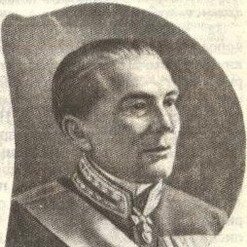 Grigory Alexandrevich de Vollan (also de Vollant or de Wollant, name of Dutch origin) (Г.А. де Воллан, 20 Feb. 1847, St. Petersburg – 28 Apr. 1916, Yalta) was a noted Russian diplomat, traveler, ethnographer, and publicist who served in the Imperial Asian Department and in consulates in Budapest and Japan (1886–96), later in the Americas (Russian mission secretary in Washington, D.C., from 1896 to 1902, and in Mexico from 1906 to 1910), and visited Southeast Asia in 1892-1893.
While criticizing the British colonial rule in Burma (Myanmar), de Vollan was more interested in the cultural and ethnographic aspects of the countries he visited than in international politics. In Japan, for instance, he translated into Russian the Book Of Japanese Usages (Книга японских обыкновений), later publishing the book В стране восходящего солнца (In The Land of the Rising Sun, 1903), while his observations on America inspired his book В стране миллиардов и демократии (In The Land of Multimillionaires and Democrats,1907). In Cambodia, he drew his own detailed map of Angkor Wat, and collected many notations on Cambodian daily life.
The grandson of Franz Pavlovich de Vollan (Франц Павлович де Воллан, 1752-1818), a military engineer who built the first modern bridge in St. Petersburg (a museum is dedicated to him in Odessa), de Vollan was involved in Russian intellectual circles, meeting with writer Dostoievsky in the 1870s. An undefatigable traveler, he married late, probably during his stay in the Americas since his wife, Elena Vladimirovna born Tizdel (Елена Владимировна де Воллан-Тиздель), was 'the daughter of a North-American citizen of Anglican creed', according to a report in 1910.
Listed works