Hélène of Orléans
Princess Hélène of Orléans (Princesse Hélène Louise Henriette d'Orléans, Duchess of Aosta by marriage, pen name: Hélène d'Aosta or Elena Savoia) (13 June 1871, York House, Twickenham, England – 21 January 1951, Castellammare di Stabia, Italy) was a French aristocrat and a prolific travel writer.
According to biographer Edward W. Hanson ('The Wandering Princess, Princess Helene of France, Duchess of Aosta', Fonthill Media Ltd, 2017), 'Helene was a strong-willed princess, raised in France [she was the daughter of the Count and Countess of Paris] but closely connected with the court of Queen Victoria. After the premature end to a romance with Victoria's grandson Victor Albert, [Duke of Clarence and Avondale], she married into the royal family of Italy. However, Helene began extended adventuresome trips into Africa where she became a big-game hunter, explorer and travel writer, escaping from an unhappy marriage and the boredom of court life. Her travels took her around the world, but her sense of royal duty brought her back to nurse aboard a hospital ship in Libyan waters, then to an important role as head of the Italian Red Cross nurses during the First World War while her husband headed Italy's Third Army, and her two sons served in the artillery and the navy.
'Afterwards, her strong Italian nationalism made her an ally to Gabriele d'Annunzio and Benito Mussolini, but the disastrous Second World War saw her grandchildren interned in Austria and her older son die as a British prisoner-of-war while she continued her charitable work in Naples. When the country voted to become a republic in 1946, Helene was the only member of the royal family allowed to remain in Italy with her second 'secret' husband, Colonel Otto Campini.' A general hospital in Napoli still bears her name.
After Africa and the Sahara, Helene d'Aosta visited Siam, Phnom Penh and Angkor in January 1914, before heading to Java, New Guinea, New Zealand and Australia, narrating her travel experience in her book 'Vers le soleil qui se leve' [Towards the Rising Sun] (Ivrea (Italy), Francesco Viassone ed., 1918).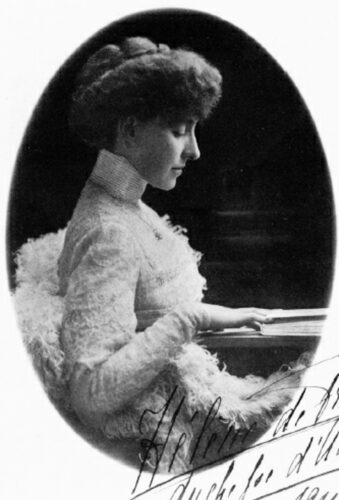 Princess Helene in 1911, two years before her visit to Angkor (source: E.W. Hanson)