Henri Alexandre Mouhot
Philologist, self-taught photographer and naturalist Henri Mouhot (1826, Montbeliard, France -1861, Naphan, Laos) started exploring South East Asia in 1857 with the support of the Royal Geographical Society and the Zoological Society of London. French authorities never supported his journeys aimed at natural sciences research.
Mouhot´s connection with Great Britain was also personal since he married in 1856 the granddaughter (or niece?) of famous Scottish explorer Mungo Park (1771-1806), Annette Park (18??, Berwick-on-Tweed - 1894), and lived with her in Jersey. His brother Charles, who traveled with him across Europe and Russia, married another of Park´s relative, Jane Elizabeth Mary Park.
Also, it has been said that John Bowring´s book published in 1857, The Kingdom and People of Siam, gave him the idea of visiting South East India. Last but not least, his travelogue around South East Asia was first published in London in an edition collated by Charles Mouhot in 1862.
His Journal and letters, later collated in the book Voyage dans les Royaumes de Siam, de Cambodge et de Laos (1868) for the French public, became a sensation for his description of Angkor, which he reached from the South in January 1860 (chapters 18, 19, 20). If he was not the first Westerner to access the Angkorian site, his relation was so vivid, detailed and well-written that ït gave him (posthumously) the reputation of being the first "Angkor rediscoverer".

Henri Mouhot, was had studied Greek and Latin and taught Greek at a Saint-Petersburg gymnasium when he stayed in Russia, took some epigraphic notes on Khmer and Lao languages that are kept at the British Library and can be viewed here.

Henri Mouhot died of malaria fever (called "fievre des bois" among the French explorers of Indochina) on Nov 10, 1861, in the vicinity of Luang Prabang, the southernmost Royal city of Laos. His grave, erected in 1867, has been rediscovered in 1989.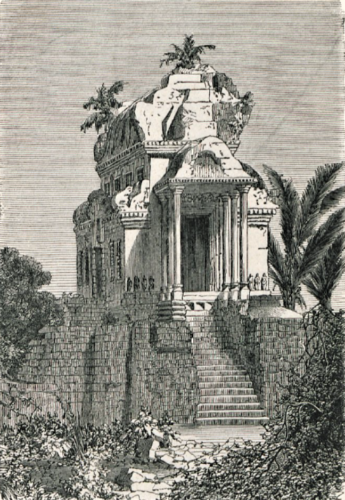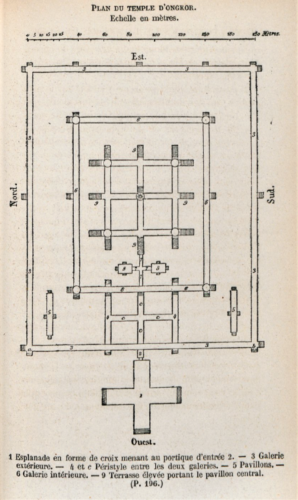 Angkor Wat 'Central Pavilion' sketched by H. Mouhot; A map of Ongkor (Angkor) by the author.
Listed works