Jean Ajalbert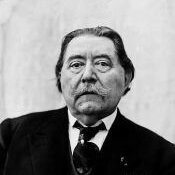 Jean Ajalbert (pen name Ajalbert) (10 June 1863, Levallois-Perret - 14 Jan 1947, Cahors, France) was a journalist, lawyer and writer active in French Indochina from 1903 to the Second World War.
He famously criticized the action of École française d'Extrême-Orient (EFEO), arguing that the school was opposed to "any communication between the conqueror and the defeated, between the foreigner and the native." On July 7, 1911, renowned Orientalist Paul Pelliot slapped him in front of the many banquet attendants at Paris restaurant Ledoyen, an event celebrating Albert Sarraut's nomination as Governor-General of French Indochina.
A friend of famous aviator Roland Garros (and the latter's mistress, Marcelle Gorge), he was close to the French Communist Party before suddenly joining the collaborationist camp in 1941. After the Liberation, he was convicted and jailed for almost two years.
Among Ajalbert's publications:
Sao-van-Di, roman de moeurs au Laos (Paris, Fasquelle, 1905).
'Autour de SM Sisovath roi du Cambodge et protégé de la France' (La Revue, n° 63, 1907).
L'Indochine en péril (Paris, Stock, 1906).

Les destinées de l'Indochine, Voyage, histoire, colonisation (Paris, Michaud, 1909).
Baffin Su·Su (Paris, 1912).

Les nuages de l'lndochlne (Paris, Michaud, 1913).