Jean-Baptiste Pallegoix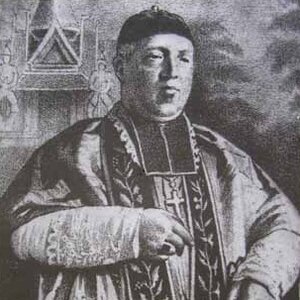 Mgr. Jean-Baptiste Pallegoix (24 Oct. 1805, Combertault, France – 18 June 1862, Bangkok, Siam (Thailand)), vicar apostolic of Eastern Siam from 1838 to his death, was a French missionary who extensively studied Thai language and society.
A close friend of King Mongkut (Rama IV) of Siam -- who attended in person his funerals --, he was free to travel across the Kingdom or to send emissaries, and was involved in France's early attempts of establishing contacts with Cambodia, then vastly under Siamese rule. He also acted as an intermediary for the establishment of official relations between France and Siam, thanks to his access to French diplomat Louis Charles de Montigny, who signed the French-Siamese Treaty on 15 Aug. 1856.
Author of Latin-Thai-French-English dictionaries, he mentioned several times Angkor and the history of Cambodia in his Description du Royaume thai ou Siam, even if many of his descriptions were not first-hand. He signed the latter book as "évêque de Mallos [Bishop of Mallos, an ancient city of the Roman region of Pisidia, a titular see of the Roman Catholic Church], vicaire apostolique de Siam".
Listed works