Joao de Loureiro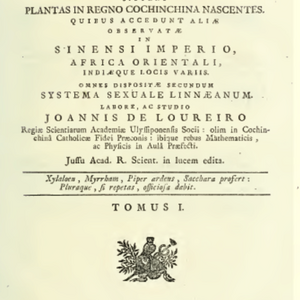 João de Loureiro (1710, Lisbon - 18 Oct. 1791, Lisbon) was a Portuguese precursor in botanic, plant taxonomy and natural sciences.
After joining the Jesuit order (Society of Jesus), he became a missionary in Goa and Macau before reaching Cochinchina (Annam) where he stayed (officially as a physician and astronomer, his missionary work being only tolerated by the King) for some 36 years. He also stayed in Gangzhou (China) and, in 1783, spent three months in Mozambique where he once again extensively studied the local flora.
According to Antoine Brébion's Dictionnaire de bibliographie, it was during his return journey to Europe in 1777 that he "landed on the coasts of Cambodia, Bengal, Malabar, then Mozambique, gathering botanical samples in each and every place. He had left Annam aboard The Rumbold, a ship of the English Indies Company, en route to Calcutta."
After his return to Lisbon, the Royal Portuguese Academy of Sciences sponsored the publication of his sum, Flora Cochinchinensis. His work on Southeast Asian flora was highly praised in Europe, to the point that the reputed botanist and taxonomist Carl Ludwig Willdenow annotated the German edition in 1793.
His author's abbreviated name, Lour., appears in numerous botanical references.
Listed works