Joseph-Georges Ganier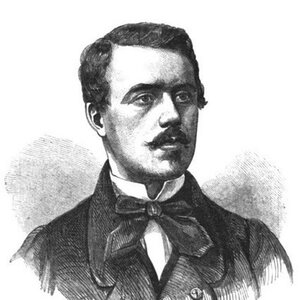 Joseph-Georges Ganin (23 Sept. 1840, Paris - [presumed] 6 Oct. 1873, Cartagena, Spain), also know as J.G.G. D'Abin or D'Abain, was a French adventurer, a globe-trotter, a military man fighting for nationalists and republicans, a pamphletist who spent several years in Siam and Cambodia, presumably as an opium dealer.
In 1863, he joined the Polish insurrection against the Russian and Prussian troops, and later on was rumored to having taken part in an insurrectional coup against the president of the Dominican Republic, which was probably a hoax.
In 1869, he served the young Siamese King Rama V as "commander-in-chief" of the Army, or as "Captain of the Guards". The following year, he took a leave in order to serve the Commune de Paris against the Prussian armies. Commander of the National Guard, he was blamed for his behavior -- including summary executions --, suspected to be a Bonapartist spy and even sentenced to death in absentia.
Back to Southeast Asia, he traveled by himself, and presumably authored a pamphlet published on January 1st, 1874, "Adventures of an Opium Monopolist in Cambodia". He published articles about Cambodia in American journals, for instance The Century.
In a report to the American Geographical Society of New York in 1875 "about the Kingdom of Cambodia, the ruins of Angkor and the Kingdom of Siam", he introduced himself as "Ex-Commander-in-Chief of the army of the Kingdom of Siam, and Mandarin of the fifth class - Lhuang - Thone - Hane - Raxat," and signed "J.G.G. d'Abain [a variation on his pseudonym "D'Abin", gentrification of his grandmother's surname, Dabin (Jeanne)].

He was also named (rightly so, or as a part of his adventurer legend) as a fighter in several armed conflicts, such as infightings in Italy, in Abyssinia and during the 1873-1874 Spanish Revolution, rumored to have an affair with Mina Puccinelli (1835-1882), "Mina The Republican", a revolutionary feminist. His presumed date of death,1873, is in contradiction with the fact that his wife Hyacinthe-Clarisse Ricou obtained a divorce sentence that was served to him in 1884.
Listed works