Fray Marcelo Ribadeinera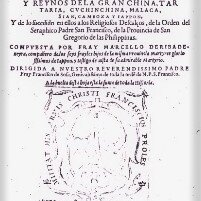 Fray (Friar) Marcelo de Ribadeinera (or Ribadeynera) (1560 or 1562, Palencia, Spain - 1606, Salamanca) was a Spanish Franciscan missionary part of the mission to the Philippines that left Sevilla on 9 January 1593 to reach Manila in May 1594 under the supervision of Padre Ortiz Cabezas. He was sent in August to Kyoto with an embassy to Toyotomi Hideyoshi (with fray Marcelo de Ribadeneyra, fray Agustín Rodríguez, fray Gerónimo de Jesús and fray Andrés de San Antonio).
After managing to escape the Christian persecutions in Kyoto, Osaka and Nagasaki, he sailed to Macao and reached Manila back in January 1598. He testified on the Christian martyrdom in the Far East during the Church inquiry on the Japan events in Rome. Back in Spain in 1601, he presented to King Felipe III his Historia eclesiástica de las islas Filipinas y reinos de Japón, which he completed for the Barcelona edition a few months later under the title Historia de las islas del archipielago y reynos de la gran China, Tartaria, Cuchinchina, Malaca, Sian, Camboxa y Iappon, y de los sucedido en ellos a los religiosos descalços, de la Orden del Seraphico Padre San Francisco, de la Provincia de San Gregorio de las Philippinas (Barcelona, imprenta de Gabriel Graells y Giraldo Dotil, 1601). A modern edition of this work in 6 volumes was printed in Madrid in 1947.
Honored with the title Penitenciario Apostólico for completing the work, he retired in the convent of San Antonio of Salamanca where he died in 1606.