Minkang Yang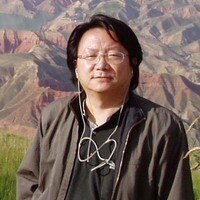 Yang Minkang 杨民康 (1955) is a Chinese ethnomusicologist specializing in minority musical forms (he belongs himself to the Bai 白族 East Asian ethnic group native to the Dali Bai Autonomous Prefecture of Yunnan Province, one of the 56 ethnic minorities officially recognized by China).
Researcher and teacher with several Chinese institutions, including the Music and Dance Department of the Minzu University of China, the Musicology Department of the Central Conservatory of Music, and the Music Department of the Chinese University of Hong Kong, a Doctor of philosophy, he served as Assistant Director of the National Music Research Office and was a a visiting scholar at the Sydney Conservatorium of Music of the University of Sydney in Australia.
A member of The International Council for Traditional Music (ICTM), he was also a distinguished researcher at Shanghai University Music Anthropology E-Research Institute, academic committee member at Shanghai University Humanities and Social Sciences Key Research Base Chinese Ritual Music Research Center, guest researcher at Northwest National Music Research Center of Xi'an Conservatory of Music, guest/part-time professor at Shanghai Conservatory of Music, Music School of Minzu University of China, Film and Television Art School of Communication University of China, School of Arts and Design of Yunnan University, Yunnan Arts University, Music School of Hebei Normal University, etc.
Selected Publications:
Chinese Folk Songs and Rural Society, 1992 (First prize of the 3rd Beijing Philosophy and Social Science Outstanding Scientific Research Achievement Award)
Chinese Folk Song and Dance Music, 1996.
Taoist ritual music of the Yao nationality in Yunnan, 2000
Bayeux Praise, Music for the Festival Ceremony of Dai Nationality's Theravada Buddhism, 2003 (Second prize of the 2nd Cultural Art Science Outstanding Scientific Research Achievement Award by the Ministry of Culture)
A Comprehensive Collection of Research Documents on the History of Chinese Music in the 20th Century, Song and Dance Music Volume, 2006
Seeking for the Rhyme of Buddhism, Investigation on Buddhist Music and Folklore of the Dai Nationality's Anju Festival in Xishuangbanna, 2007
Introduction to Musical Ethnography Method, 2008.
Localization and Modernity: A Study on the Christian Ritual Music of Yunnan Minority Nationalities, 2008
Traditional Music of Chinese Minorities (Co-Editor)

Listed works