Pannakar Ieu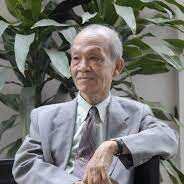 Ieu Pannakar អៀវ បណ្ណាការ (21 Feb. 1931 – 10 May 2018, Phnom Penh) was a Cambodian film director and statesman, who cofounded with film director Rithy Panh the Bophana Center.
One of the first Cambodian citizens to study cinema in France, he frequently collaborated with King Norodom Sihanouk for the monarch's fiction and documentary movies. He served as honorary president of the ARPAA (Association pour la recherche, la production et l'archivage des documents audiovisuels).
The son of former Prime Minister and President of the National Assembly Ieu Koeus, Ieu Pannakar served as a senator, as a nominee of King Norodom Sihamoni, and headed the cinematic division of the Cambodian Ministry of Culture and Fine Arts. He was married to Oum Sophanith (1928-), a half-sister of Queen Mother Norodom Monineath.
Listed works