Pech Tum Kravel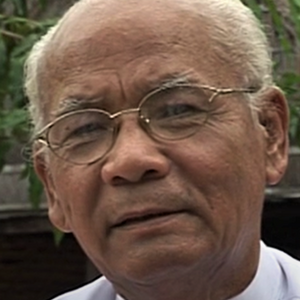 Pech Tum Kravel ពេជ្រ ទុំក្រវិល (1943, Kandal- 2015, Phnom Penh) was an actor, writer, and the director of the Dance Department at Royal University of Fine Arts. He is the author of more than 20 books and essays on Cambodian culture and art, in particular at theater and dance.
Born Chhorn Tort (ឈន ទត), he became famous under the screen and stage name Pech Tum Kravel in the 1960s, after acting in several popular movies such as Tum Teav (ទុំទាវ). Having survived the Khmer Rouge regime, he acted for the rebirth of the Khmer arts as an adviser to the Ministry of Culture.
Pech Tum Kravel has studied the origins and form of Sbek Thom (ស្បែកធំ, Khmer puppet theater), and of Yike and Bassac (ល្ខោនយីកេនិងបាសាក់, Cambodian traditional theater). In his often-quoted essay Robam Khmer (Khmer Dances, របាំខ្មែរ, 2001), he explores the pre-Angkorean roots of the Khmer court dance. Amongst his twenty published books, The Song of the Steel Crickets (ចម្រៀងចង្រិតដែក, 2011) is a collection of poems, many of them part of the folk culture of Cambodia, including 'Man With Krasang' (បុរសផ្លែករសាំង).
See the interview with Pech Tum Kravel by Khmer Dance Project here.