Peter Bellwood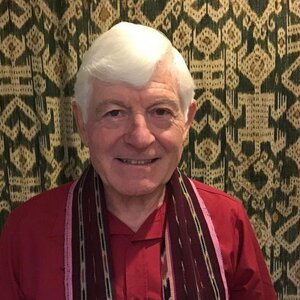 Peter Stafford Bellwood (1943, Leicester, England) is Emeritus Professor of Archaeology in the School of Archaeology and Anthropology at the Australian National University (ANU) in Canberra.
His areas of specialization include the prehistory of Southeast Asia and the Pacific from archaeological, linguistic and biological perspectives; the worldwide origins of agriculture and resulting cultural, linguistic and biological developments; and the prehistory of human migration.
He has been working with Philip J. Piper and Lam My Dzung on an archaeological fieldwork project, funded by the Australian Research Council, on Neolithic sites in Vietnam.[2]
Professor Bellwood was the Secretary-General of the Indo-Pacific Prehistory Association (1990 to 2009) and was formerly the editor of the Bulletin of the Indo-Pacific Prehistory Association (now the Journal of Indo-Pacific Archaeology).
His latest published book is First Islanders: Prehistory and Human Migration in Island Southeast Asia (2017, Wiley-Blackwell).
Listed works