Sonetra Seng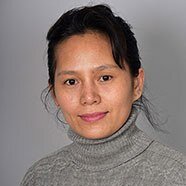 Seng Sonetra was Acting Dean and Lecturer of the Department of Archaeology, Royal University of Fine Arts in Phnom Penh before undertaking the MA programme in History of Art and Archaeology at SOAS University of London in 2018-19.
She has conducted several archaeological excavations of prehistoric sites in Cambodia under the cooperation between the Memot Centre for Archaeology, University of Tuebingen and the German Archaeological Institute (DAI), and has co-authored a series of books and articles in this field. She has also acted as Curator of the Memot Archaeological Museum, Cambodia, and directed a training-oriented metal laboratory in the Ministry of Culture and Fine Arts.
Her research thesis at SOAS London, to be completed September 2023, is titled 'Beyond the Masterpiece: Function and Design of Divine Adornment in Angkorian Cambodia (9th-14th c.).
Listed works