Vera Y. Kolokolnikova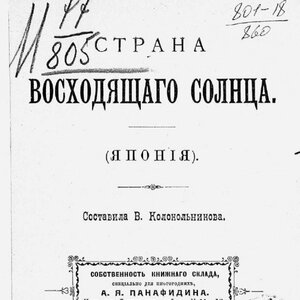 Author of popularization history and geography books, Vera Yakovlevna Kolokolnikova (Колокольникова Вера Яковлевна), was a 'very prolific and popular published author in Moscow at the turn of the century', to quote the document 'Russian Female Writers'.
Among her books registered at the Russian National Library (RNB), we shall mention Caucasus (Кавказ, 1898), Indochina (Индо-Китай, 1902), Land of the Rising Sun (Страна восходящего солнца,1898), Our Neighbors (Наши соседи, 1908), The Heavenly Empire (China) (Небесная Империя, 1898), The Nile (Нил, Korea (Корея, 1900), Sketches of Afghanistan, Beluchistan and Persia (Oчерки Афганистана, Белуджистанa и Персии, 1906), Across Holy Lands (по святьим землям, Сирия, Палестина, Синай, 1903), A Fabulous Country, India (Сказочная страна, Индия, 1901), Across Steppes, Deserts and Mountains, Mongolia, Tibet, Mandchuria, Dzungaria, Western Turkestan (Cреди степей, пустынь и гор, Монголия, Тибет, Мандчурия, Джунгария, Западный Туркестан, 1899), Arabia (Аравия, 1901).
V.Y. Kolokolnikova also authored a biography of Mikhail Vassilievich Lomonossov, a book on the Napoleonic Invasion (The Year 1812-Patriotic War (Двенадцатый год - Отечественная война, 1912), and numerous short stories.
Listed works