Angkor Wat
by Michio Fujioka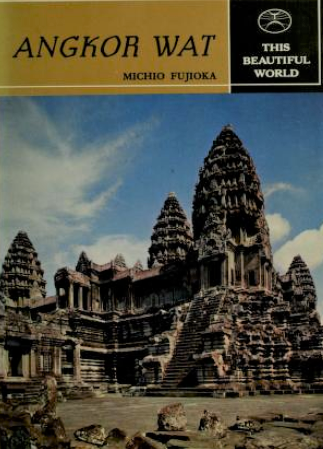 Type: Paperback
Publisher: Kodansha International, Tokyo & Palo Alto
Published: 1972
Pages: 138
ISBN: 0-87011-156-6
This short book, who was designed as a guide for discerning visitors, is much more than a guidebook: an accessible manual of Khmer architecture by a specialist of the Asian art of building.
When comparing Khmer temples to other architectural achievments across Asia, the author comes well equipped for comparative study, an exercise certainly more difficult for Western minds.
Regarding Angkor Wat, the author notes that while the tower type can be traced back to the sikharas (Hindu temple towers), and even if "the curves of the shell-shaped tower resemble those of the sikharas of Aryan, Chalakyan or Dravidian styles", "the stepped style is unique to Khmer architecture." What makes the Khmer tower so unique? "One theory holds that the tower represents the linga, which was one of the forms of the god Shiva."
Contrary to many Westerner researchers, the author has no qualms in asserting that the "dancing halls (...), extremely spacious constructions, were intended to be dancing halls." He notes that "not a single Khmer temple possesses all four halls of the traditional Hindu temple: main sanctuary (sikharas), prayer hall (jagamohan), dancing hall (nat mandir), sacrificial hall (bhog mandir)." Therefore, Angkorian dancing halls were probably designed as assembly and sacred dance spaces.
The author boldly asserts the Western influences on Khmer architecture, noting that "we know that in the 3d century not only Indians and Persians but people from the Roman territories of the East arrived by boat in what is now Canton on the Chinese mainland." To him, Angkor Wat corridor pillars "are similar in form to the Corinthian pilaster of classical Rome.' Even the curled-leaf motives bear some resemblance, even if the Khmer decoration is typically 'low relief'.
About the Bakong Temple, built by Indravarman I in 881 as the central temple of Hariharalaya capital city, he remarks that "the initial structure, erected on a pyramidal base, was built of wood".
About Lolei and Prah Ko, he observes the "ancient method of construction that antedates the use of sandstone: only brick (with a few stone details), then covered with stucco ornementation."
Noting that blue sandstone was preferred to red sandstone for aesthetical reasons, he notes that the latter was "more resistant to wind and rain, which explains why the Banteay Srei temple has remarkably survived time".
Further reading: アンコール遺跡の建築学 / 片桐正夫編 (Architectural Studies on Angkor Ruins, by Masao Katagiri)
Tags: architecture, comparative studies, Mebon, Banteay Srei, dancing halls, Roman Empire
Michio Fujioka
Prof. Fujioka Michio 藤岡通夫 (31 Jul. 1908, Tokyo - 19 Nov. 1988, Tokyo) was an eminent Japanese architect and art historian who studied the architecture of the Khmer temples.
Author of a reference book on Japanese Castles, as well as essays on Japanese Residences and Gardens (恒成一訓写真), Castles and Shoin (Shiro to Shoin 城と書斎, Shoin being the alcove-study-room used in Buddhist Japanese housing that came to characterize a house design style, Shoin-zikuru), or the Kyoto Imperial Palace, Michio Fujioka also studied the religious and royal architecture of Nepal.
A graduate of the former Japanese Institute of Technology (section Architecture) in 1932, Prof. Fujioka first traveled to Thailand and the then French Indochina in 1941, and stayed at Angkor several months to study its architectural uniqueness. His approach of ancient Khmer architecture remains particularly stimulating to these days.
Professor and Professor Emeritus at several Japanese institutions of higher education, Fujioka Michio, a Doctor of Engineering (1949), was the mentor of several distinguished architects. He had followed the steps of the first researcher of early Japanese shrines and temples, Pr. Shoin Maeda, becoming a leader in Japanese housing history research.
Photo: Cover page of Prof. Fujioka's Ruins of Angkor (アンコール遺蹟), with Suzuki Hirotaka, Tokyo 1943