Chansons cambodgiennes (Cambodian Songs)
by Albert Edouard Lazare Tricon & Charles Bellan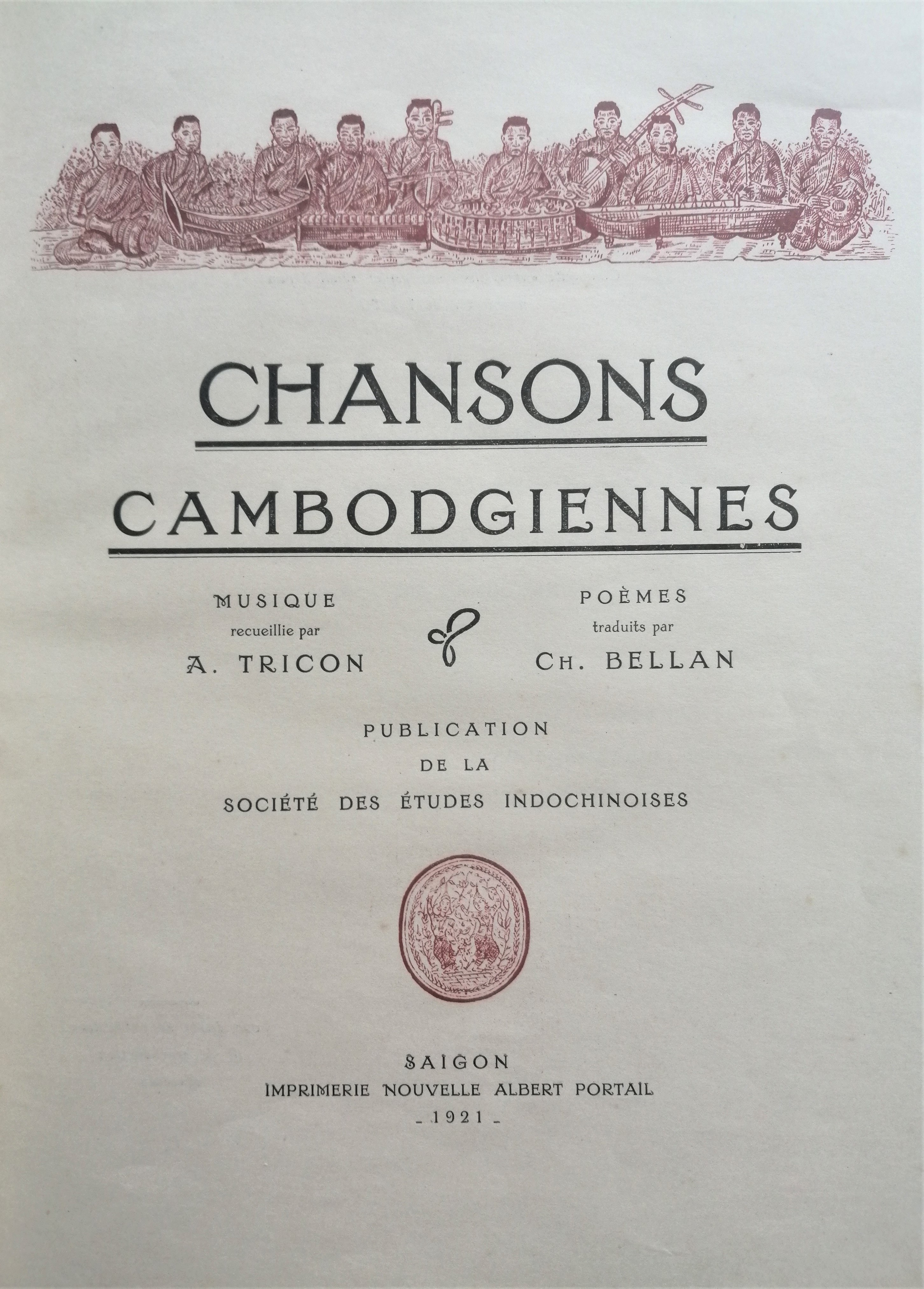 Type: Hardback
Publisher: Société des Études indochinoises. Imprimerie Nouvelle Albert Portail, Saigon-Phnom Penh.
Published: 1921
Pages: 145
Languages : French, Khmer
This work of spontaneous "ethnomusicology" by two French officials in Cambodia during the 1920s is a precious rendition of the traditional musical repertoire before modernization.
Albert Tricon, a magistrate, attempted to transcript what he called "the Far-Eastern scale" with Western half-tones notations. Charles Bellan, a civil officer who studied Khmer language and local cultures (in particular Caodaism in Vietnam) during his free time, wrote down the lyrics mostly by ear. 
Nevertheless, this collection has helped researchers and musicians, almost a century later, in re-creating ancient songs of Cambodia, some of them dating back to pre-Angkorian times. 
See and hear here the musical production based on this rare book by the Bophana Center.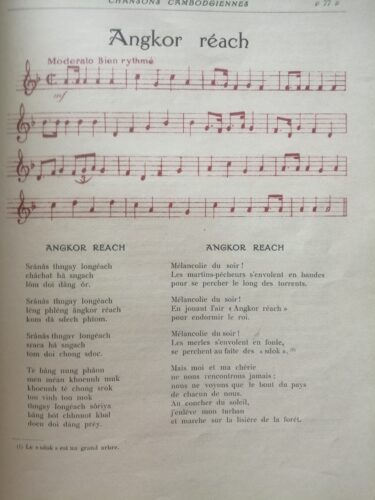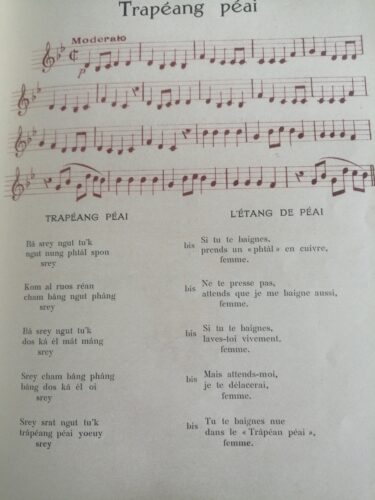 Tags: Khmer music, Khmer songs, musicology, 1920s
Albert Edouard Lazare Tricon
A French official in Indochina, Albert Tricon (1867, Marseille - ?) served as "Président de la Cour d'Appel" (President of the Appeal Court) in Saigon, "Procureur du Tribunal de 1ere instance" (Public Prosecutor) in Phnom Penh , and as "Conseiller a la Cour" (King's Counsel) in Cambodia. He was granted with the Légion d'Honneur in 1924.
Founder of the "Société des Études indochinoises", he was the vice-chairman of Phnom Penh Cercle Colonial. 
Charles Bellan
A French administrative officer in the 1920s, Charles Bellan served as "Résident" (Governor-Delegate) of Kompong Speu Province, "Administrateur des Services Civils de l'Indochine" et "Résident de France" in Cambodia during 25 years.
He authored a novel, Fleur de Lotus (Lotus Flower), published in Paris in 1924. He also wrote on Khmer and Annamite linguistics and folk culture, as well as a political essay, Le Crime colonial, and another "Cambodian novel" (roman cambodgien), L'eau du serment.