Looting in Angkor | Pillage a Angkor
by ICOM & École Française d´Extrême-Orient (EFEO)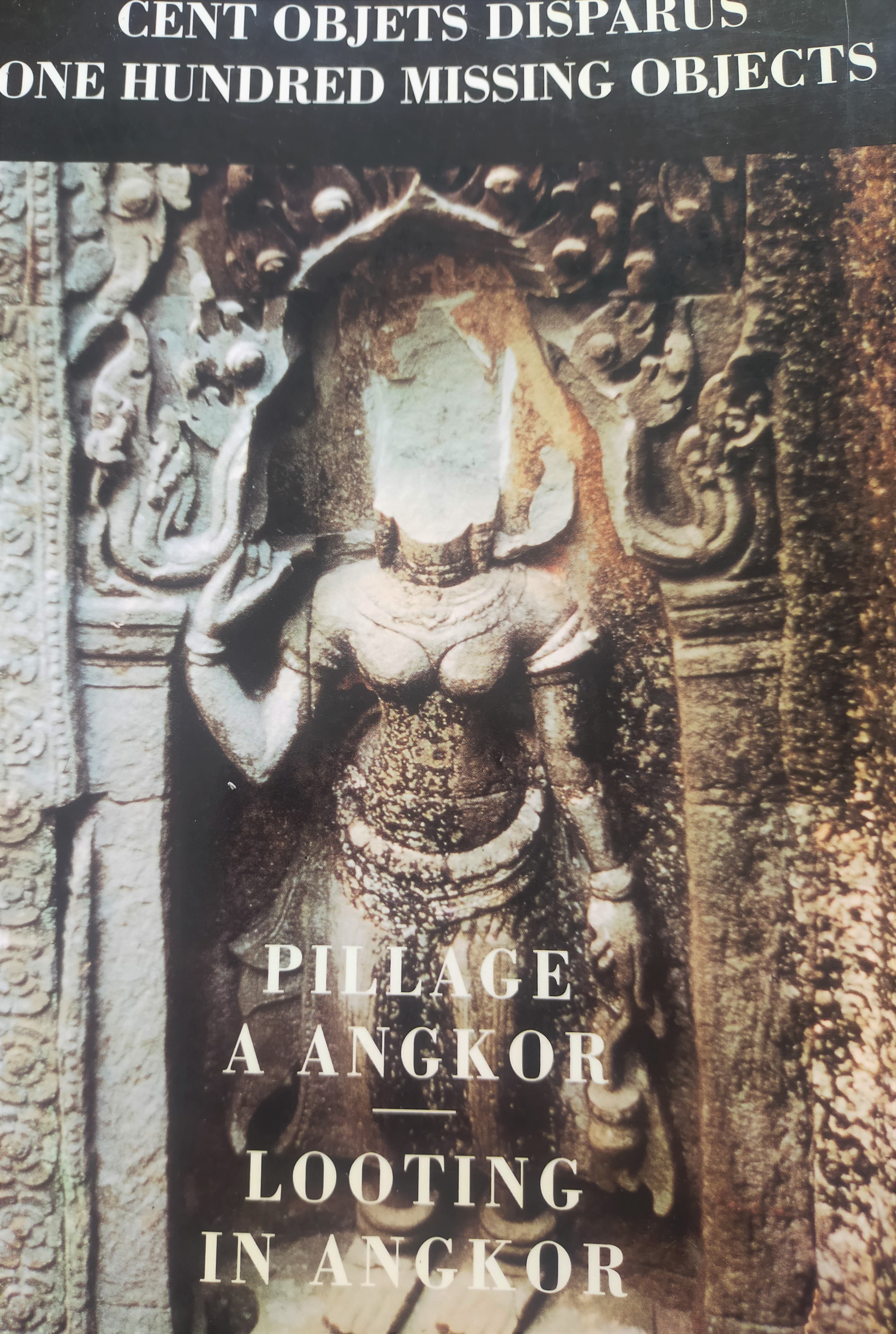 Type: Paperback
Publisher: ICOM/Musée de l'UNESCO, Paris
Published: 1997
Pages: 127
ISBN: 92-9012-034-4
Angkor Database Physical Library Catalogue ID:
ART9/ICOM
In spite of its many flaws (no index, no table of contents, inconsistent indexation of stolen artworks...), this document is a valuable contribution to the study on systemic looting and damaging of Khmer artworks -- mainly stone statues -- during the decades 1970s-1980s.
Tellingly enough, one entire section is devoted to severed heads stolen from statues, many of them stocked at the Dépot de la Conservation d'Angkor (DCA) and looted during the Cambodian civil war.
Since the publication of this temptative catalog, substantial progress has been made in tracing and retrieving looting arts. International bodies, including museums worldwide, have developed a more inventive approach to this scourge. Nevertheless, the origin of numerous Khmer artefacts in public and private collections remain murky to the day. Efforts deployed by the Cambodian Ministry of Culture and Fine Arts in the last decade have contributed to make this process more transparent and efficient.
It would be astonishing that this kind of compilation would be developed nowadays without the contribution of Cambodian specialists and/or officials, as it was the case in 1997.
ADB Input: A new census of missing Khmer artefacts, with a better indexation and accessibility, allowing unsuspicious collectors to identify pieces or fragments they bought in absolutely good faith during the last decades, seems more than ever necessary.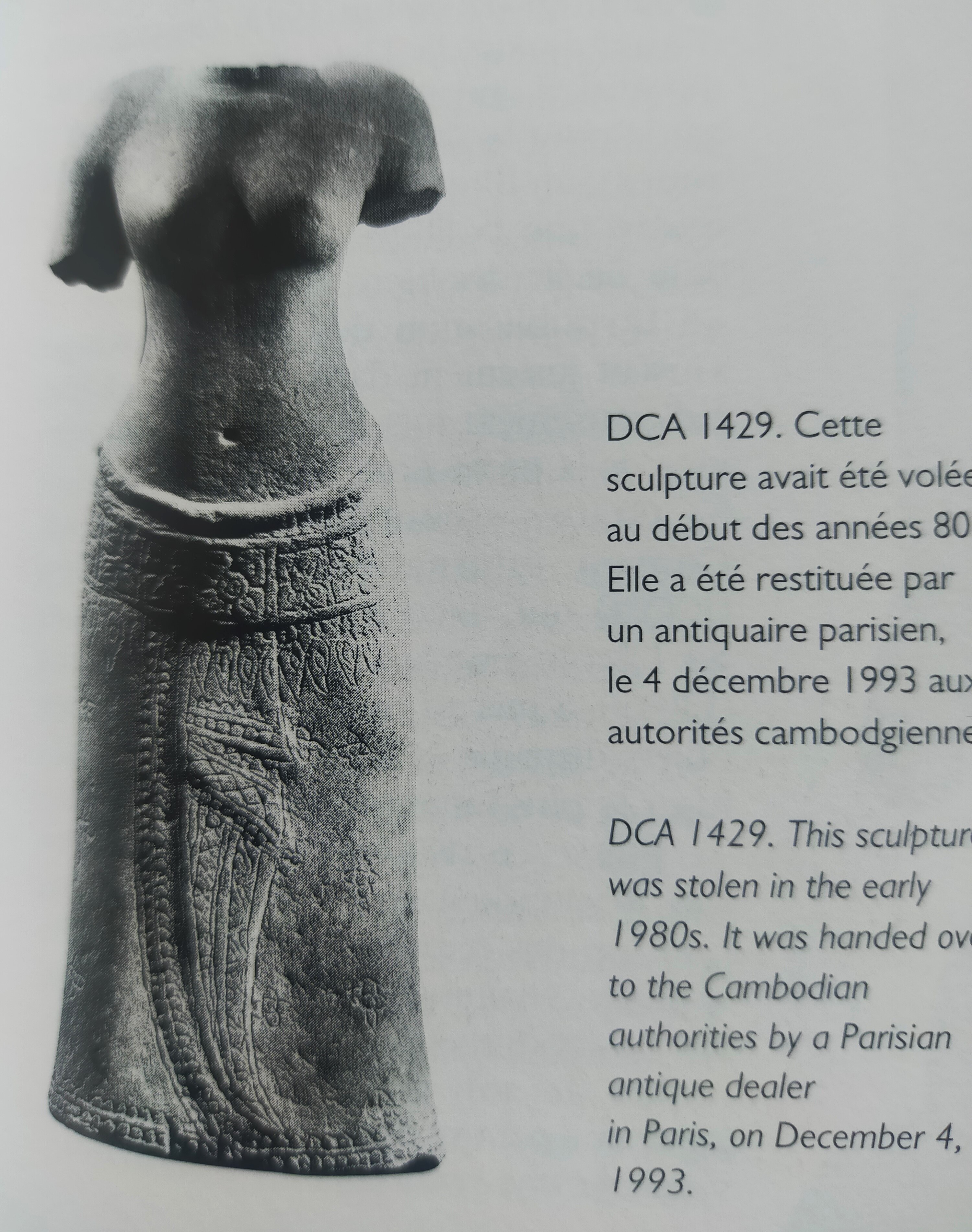 An example of recovered artwork between the first and second edition of the catalog.
With a section titled "Instruments and Measures for the Fight Against Illicit Traffic of Cultural Property".
Contributions by
Bruno Dagens, Sorbonne University
Saroj Ghose, President of ICOM
Denys Lombard, EFEO Director General
Federico Mayor, UNESCO DG
Tags: looted art, sculpture, Angkor Conservation, museums, heritage preservation, Khmer arts, statues, statuary, khmer art chronology, reference documents, cultural property, artworks, repatriation
ICOM
Created in Paris in 1946 at the initiative of Chauncey J. Hamlin (US), who became the first President of the organisation, the International Council of Museums (ICOM) adopted its Code of Ethics in 1986. The organization lists more than 15,000 members worlwide.
From 1996 on, ICOM reinforced its fight against the illicit traffic of cultural goods by developing the Red Lists and One Hundred Missing Objects series. Risk prevention activities related to natural or man-made disasters were accelerated with the Museum Emergency Program (MEP) launched in 2002 as well as ICOM's participation in the International Council of the Blue Shield (ICBS).

ICOM Department of Heritage Protection is currently headed by Sophie Delepierre. The ICOM Cambodia national committee is presided by CHAU SUN Kérya.
École Française d´Extrême-Orient (EFEO)
The French School of the Far East (École française d'Extrême-Orient, abbreviated EFEO) was founded in 1900 with headquarters in Hanoi, in what was then French Indochina. After the independence of Vietnam, its headquarters were transferred to Phnom Penh in 1957, and to Paris in 1975.
Its main fields of research are archaeology, philology and the study of modern Asian societies. Since 1907, the EFEO has been in charge of conservation work at the archeological site of Angkor.