Summary Biography of HM Preah Bat Samdech Preah Norodom Sihanouk
by Som Ol Kong
ព្រះរាជជីវប្រវត្តិសង្ខេប.ព្រះករុណ ព្រះបាទសម្ដេច ព្រះ នរោត្តម សីហនុ ព្រះបរមរតនកោដ្ឋ
Type: Hardback
Publisher: Royal Palace of Cambodia, Phnom Penh | Complimentary distribution after the passing of HM Norodom Sihanouk.on Oct. 15, 2002.
Edition: Julio Jeldres Collection at Angkor Database (JJCA), plus digital versions ENG and KH by ADB.
Published: January 2013
Pages: 108
Languages : English, Khmer
ADB Library Catalog ID: JJCA3
Issued and distributed for free on the occasion of the Royal Funerary Ceremony of late King HM Sihanouk (Preah Bat Samdech Preah Norodom Sihanouk Preah Borom Ratanak Kaudh, according to His Majesty's last honorific title in Khmer) at the initiative of Samdech Chaufea Veang HE Kong Som Ol, Ministry of the Palace, this richly illustrated book develops the official biography by HE Kuy Sophal published in 2002 and entitled 'Preah Maha Viruk Ksat Ney Prachea (The Great Heroic King of the Nation)'. The text was submitted to several officials for approval, including Prime Minister Samdech Hun Sen, receiving the warm approbation of HM King Norodom Sihamoni and his mother, HM Norodom Monineath Sihanouk, Queen Mother of Cambodia.
As for the pictures, they were sourced in Cambodian reviews and magazines published over the years, and the 1962 'Cambodge' book published by the Ministry of Information -- and completed with images from the King's funerals and the national mourning. The English version was revised and edited by Ambassador Julio Jeldres.
We have digitized both versions (Khmer and English) of the concise yet detailed biography, as an important reference document for researchers and Cambodia's youngest generations. Linguisms and philologists will also closely study the refined style of the Khmer style, reflecting the intricacy of royal honorific terms or calendar computation in Khmer, and remembering us that the late King Sihanouk himself, while largely educated in French and with a solid background in French humanities, had also an exemplary command of his mother tongue, and developed a remarkable writing style in Khmer, be it in prose or poetry.
A rare print version of the book can be requested at Angkor Database Library, Templation Angkor Resort, SIem Reap.
Tags: King Norodom Sihanouk, King Norodom Sihamoni, Queen Mother Monineath, Queens & Kings of Cambodia, King Norodom Sihanouk Centennial Anniversary, reference documents, literature, Khmer literature, Modern Cambodia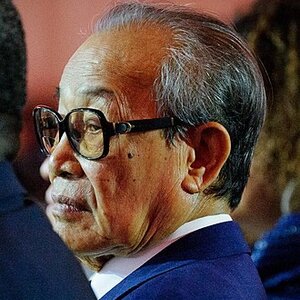 Som Ol Kong
HE Kong Som Ol គង់ សំអុល (b. 1 Nov 1936) is a Cambodian dignitary who has served in several capacities, in particular as Deputy Prime Minister and Minister of Royal Palace (since 1998).
He was Minister of Agriculture, Forestry and Fisheries from 1986 to 1989, and was elected to represent Kampong Chhnang Province in the National Assembly in 2003.