World Heritage Angkor and Beyond: Circumstances and Implications of UNESCO Listings in Cambodia
by Brigitta Hauser-Schäublin & Keiko Miura & Collective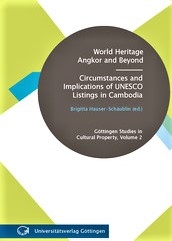 Type: e-book
Publisher: Göttingen University Press
Published: 2011
Pages: 232
ISBN: 978-3-86395-032-3
Language : English
Angkor, the temple and palace complex of the ancient Khmer capital in Cambodia, is one of the world's most famous monuments. Hundreds of thousands of tourists from all over the globe visit Angkor Park, one of the finest UNESCO World Heritage Sites, every year.
Since its UNESCO listing in 1992, the Angkor region has experienced an overwhelming mushrooming of hotels and restaurants; the infrastructure has been hardly able to cope with the rapid growth of mass tourism and its needs. This applies to the access and use of monument sites as well.
The authors of this book critically describe and analyse the heritage nomination processes in Cambodia, especially in the case of Angkor and the temple of Preah Vihear on the Cambodian/Thai border. They examine the implications the UNESCO listings have had with regard to the management of Angkor Park and its inhabitants on the one hand, and to the Cambodian/Thai relationships on the other. Furthermore, they address issues of development through tourism that UNESCO has recognised as a welcome side-effect of heritage listings. They raise the question whether development through tourism deepens already existing inequalities rather than contributing to the promotion of the poor.
Tags: UNESCO, cultural legacy, Apsara Authority, Modern Cambodia, Preah Vihear, tourism
Brigitta Hauser-Schäublin
Brigitta Hauser-Schäublin (1944, Basel) is a researcher and publisher, Emeritus Professor in Ethnology at Georg-August-Universität, Göttingen.
A consultant for UNESCO in Bali, Sumatra and Cambodia, she has taught cultural property rights and cultural heritage management as guest lecturer at Columbia University and Dartmouth College (USA), and at École des Hautes Études en Sciences Sociales (Paris, France).
Keiko Miura
Keiko Miura had worked in the Culture Unit of UNESCO Office in Cambodia from 1992 to 1998, with approximately 6-month interval working with UNESCO/Japan Funds-in-Trust project (JSA) for archaeological and anthropological work.
After resigning UNESCO, she became engaged in a Ph. D research on the relationship between Angkor heritage and local communities at the Dept. of Social Anthropology, School of Oriental and African Studies, University of London. On completing her Ph. D in 2004 she has been teaching at several Japanese universities while conducting a follow-up research in Angkor and a Balinese agriculture and rituals.