The Royal Ballet of Cambodia Costumes: Interview with Sylvain LIM
by Suppya Nut & Sylvain Lim
Designer LIM Sylvain takes us through the making and symbolism of Apsara dance costumes.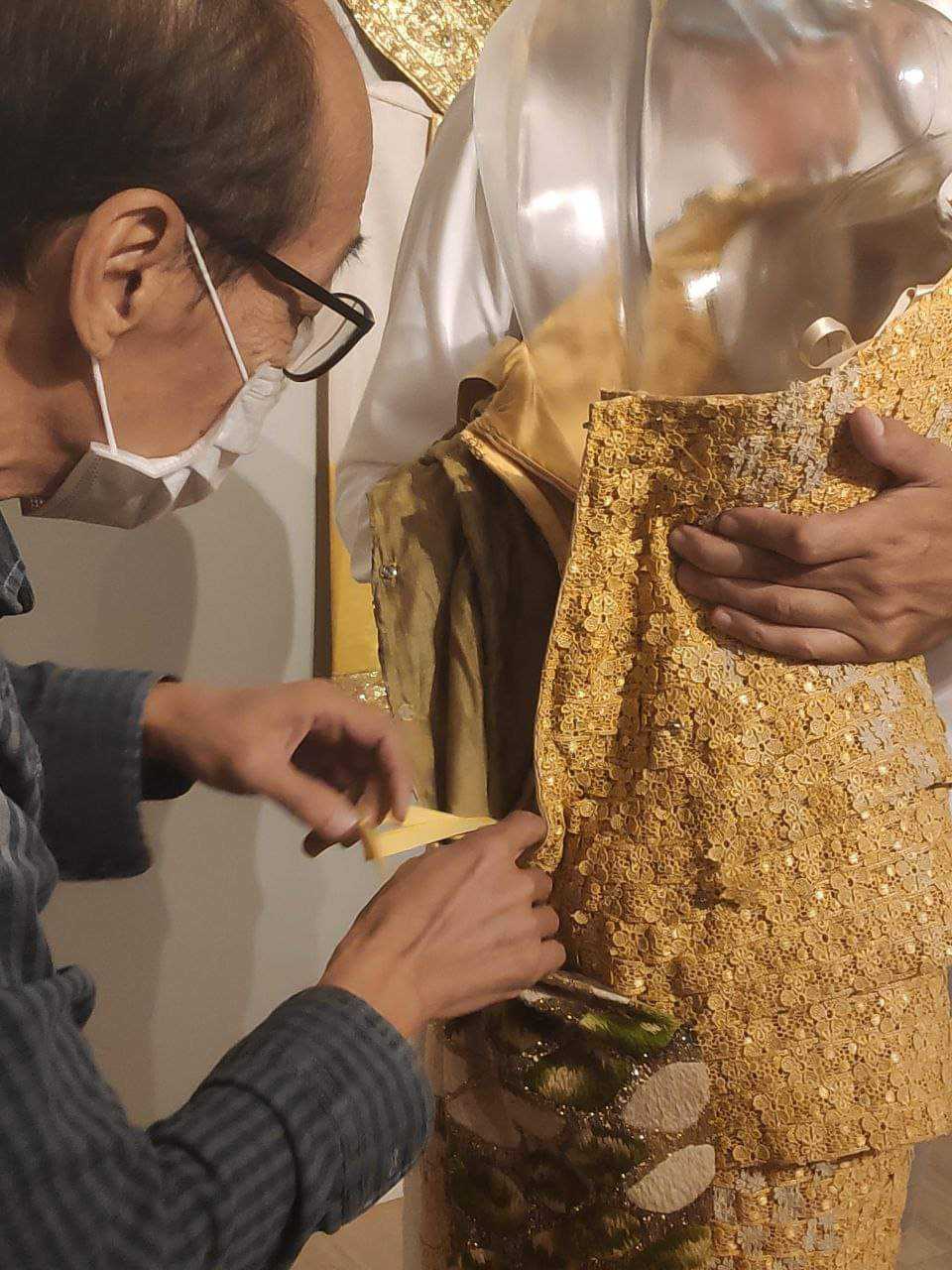 Published: 2013
Authors: Suppya Nut & Sylvain Lim
Language : Khmer
A famed fashion designer, Sylvain Lim has always been fascinated with the rich costumes of Cambodian court dances.
While disclosing many secrets of the trade, including padding and fitting in order to avoid messing with the dancers' graceful movements, the interviewee shares several insights on the history of royal dancing. Among them, the Portuguese influence on the Siamese and Khmer visions of apsara dancers, with glittering additions.
The design master, who studied embroidery from a young age in Cambodia and came to work with such French fashion luminaries as Pierre Balmain and Guy Laroche, guides us through the rigorous process of designing a costume for a Royal Ballet dancer, each one more or less ornated with silver, gilded, beaded, depending on the role played. You'll learn how the seamstresses use three sizes for each ornementation in silver (din prong), din sruy (gold), angkam (beaded), sequins (pnek moan).
While the cotton comes from the French company DMC, and the silk threads from China, many accessories are provided by the time-honored Maison Matthieu in Paris, and can be found on the quite pompous gala uniforms of the distinguished members of the French Senate...
This interview is part of th e Jeremy Robbins Dance Division, New York Public Library Digital Collections.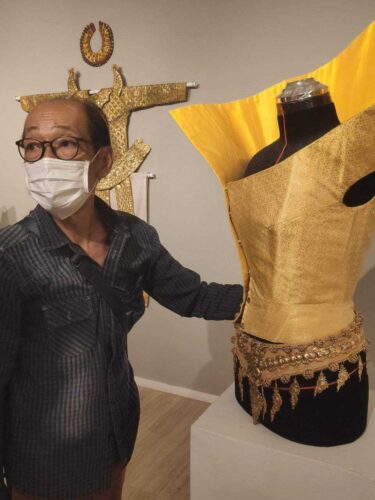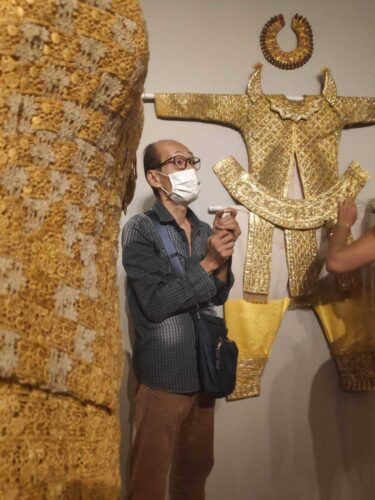 Photos: Sylvain Lim during a workshop-conference at Phnom Penh French Institute, April 2021
Tags: dance, Royal Ballet, material culture, embroidery, silk, costumes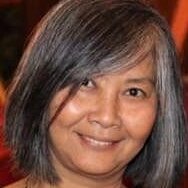 Suppya Nut
Researcher, linguist and historian, a teaching fellow at INALCO (Paris) and the University of Cologne (Germany), Suppya Hélene Nut (1960, Phnom Penh) is the founder of the Khmer Dance Project in collaboration with the Center for Khmer Studies, the Anne Hendricks Bass Foundation and the Jerome Robbins Dance Division at the New York Public Library for the Performing Arts.
A former dancer with the Khmer Classical Ballet in Paris, Suppya Nut is a leading specialist in Khmer court and traditional dance historiography. She has acted as editorial adviser to HRH Princess Buppha Devi since 2006.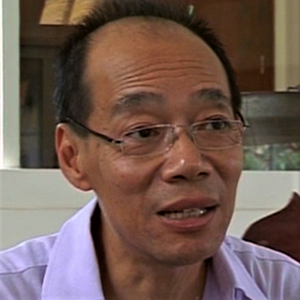 Sylvain Lim
Lim Sylvain (1951, Kep, Cambodia) has developed since his childhood a passion for Khmer traditional dance and the Apsara costumes of the Royal Ballet of Cambodia. He'd always remember that, visiting one uncle in Battambang when he was around 7, and asked what present would please him most, he answered without a blink: "A Singer sewing machine"!
Exiled in France from 1972 to 1999, he worked as a fashion designer for several famous brands, and developed his own collections.
Back in Cambodia in 2000, Sylvain Lim closely worked with Princess Norodom Buppha Devi to create new costumes and accessories for the Royal Ballet of Cambodia dancers. Since then, he has joined several projects related to classical Cambodian dance.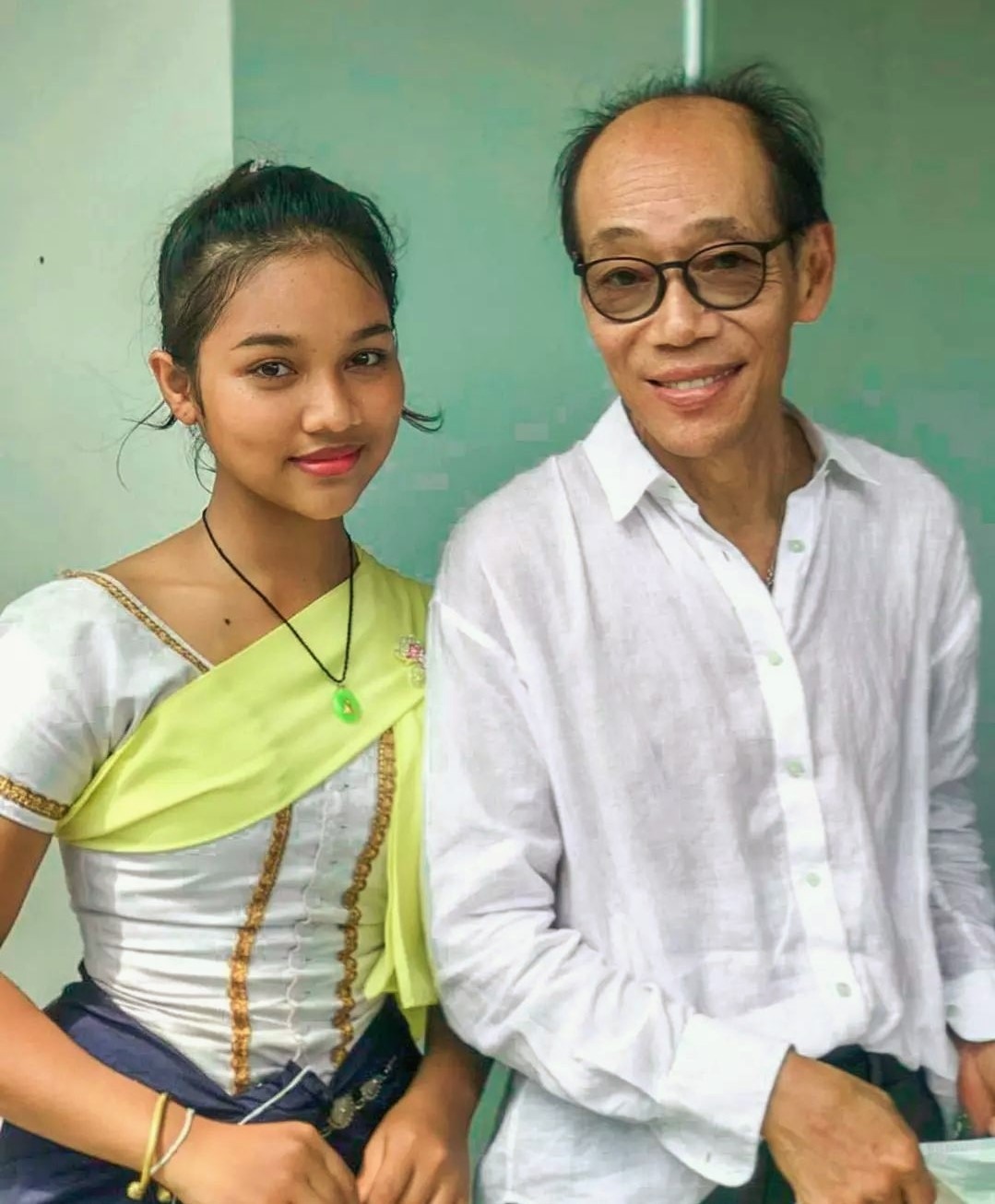 Sylvain Lim with Apsara dancer Srey Len Savath, Phnom Penh, oct. 2021 (photo DR)