Devatas & Apsaras at Ta Som
by Kent Davis
An impressive collection of devatas and apsaras graces the small temple of Ta Som, north-east of Angkor Thom.
Author: Kent Davis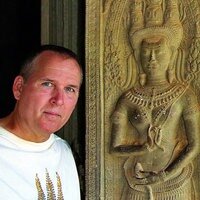 Kent Davis
Kent Davis is a publisher, editor, author, translator (English, Thai, French), independent researcher and literary archaeologist.
Since founding DatAsia Press with his wife Sophaphan in 2005, they have worked publishing a series of reference books relating the history, art and culture of Southeast Asia, from ancient times to the mid-20th century. DatAsia editions include important academic analysis, expanded restorations of rare accounts that have gone out of print, and English translations of French colonial literature.
In 2008, Davis began working with George Groslier's daughter Nicole, reviving her father's works and memories of his contributions to Cambodia. DatAsia Press now offers modern English and French editions of two Groslier novels, two travelogues, and his original 1912 study of Cambodian dance. (See his recent interview with Khmer Times on that topic here.)
During the last decade, Kent Davis has focused on documenting the devata (goddess) and apsara images at Angkor Wat to determine the historical roles of Khmer women. Many of his photosets are now available on AngkorDatabase with additional articles at Devata.org.
In 2007, he and his wife funded the construction of the Srei Devata Middle School in Baray, Kompong Thom, Cambodia, through American Assistance for Cambodia.