Bronze Reclining Vishnu – West Mebon
by Andy Brouwer
Entry #13 in Khmer Art Worldwide Collection
Published: October 26th, 2021
Author: Andy Brouwer
The famous bronze statue of a reclining Vishnu Anantashayin at the National Museum in Phnom Penh is due to travel to Paris, France in 2022 for restoration by experts at the Guimet Museum. This dramatic sculptural masterpiece is currently on display at less than a third of its original six-meter length. The makeover is expected to last nine months, after which the statue will be a temporary exhibit at the museum before heading back to Phnom Penh.
It was in December 1936 that a farmer living in the Angkor region is said to have had a dream in which the Buddha appeared to him asking to be 'released' from the soil. He led École française d'Extrême-Orient's conservator, Maurice Glaize, to the West Mebon temple – in the middle of the largest reservoir of the Angkor area - where at the end of a causeway, they unearthed not a Buddha, but this magnificent statue of the god Vishnu in bronze. Following its excavation, it eventually made its way to the National Museum by the end of 1950 and has remained on permanent display ever since. The sculpture, among the museum's most-prized, has toured the world appearing in exhibitions of Khmer art in the USA, Japan and Australia.
When the statue was cast sometime in the second-half of the 11th century or early 12th, it was installed in the center of the Western Baray reservoir, part of the impressive hydraulic system that maintained Angkor for many centuries, as the main feature of the West Mebon temple, which has also been the subject of renovations over the past decade. The deity would've been reclining on a serpent on the ocean, and the hollows of its eyes, eyebrows and above the lips would've been inlaid with precious stones. A new-look for the museum's reclining bronze Vishnu is eagerly awaited.
Tags: Vishnu, West Mebon, Bayon style, Khmer sculpture, museums, National Museum of Cambodia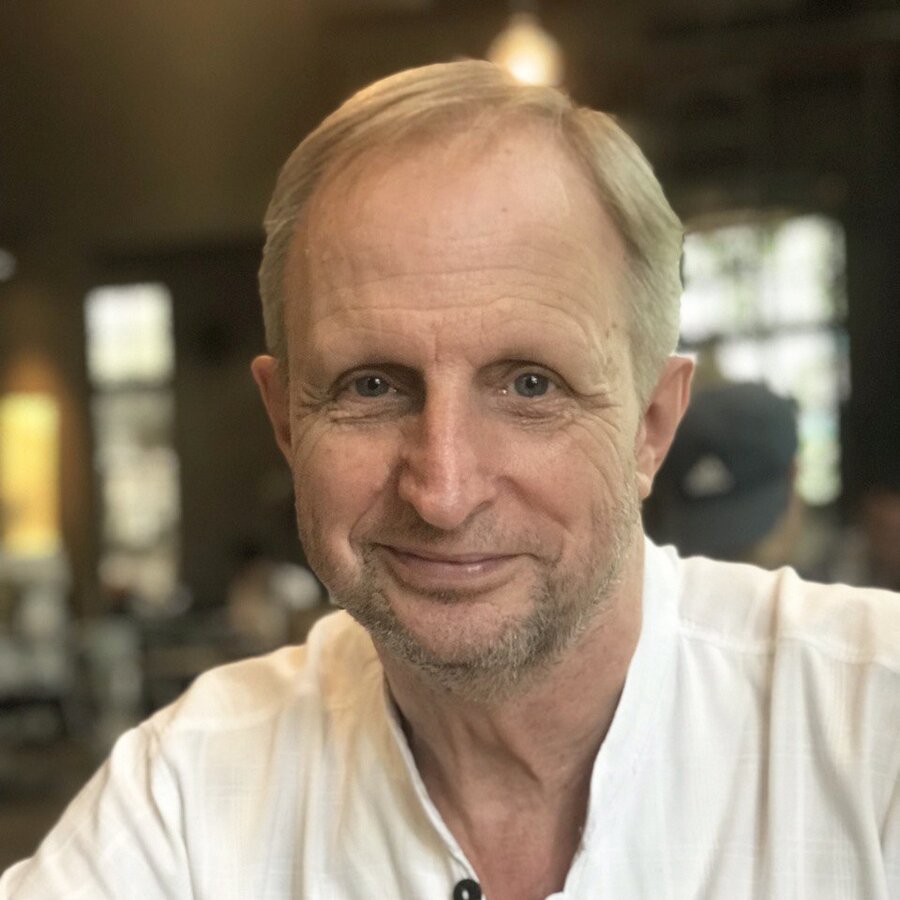 Andy Brouwer
Cheltenham-born and bred, Andy Brouwer (1959, UK) made his first trip to Cambodia in 1994, and that white-knuckle ride hooked him for life. He upped sticks to Phnom Penh in 2007 after more than thirty years in banking back in the UK to join Hanuman Films.
As well as having a serious obsession in temples, books -- he's the editor of the guidebook To Cambodia With Love --, and pretty much all things Khmer, he is a lifetime supporter of Leeds United and has an insatiable passion for the music of Steel Pulse and Ennio Morricone. His website relives his numerous visits to Cambodia, and more.
During his time living in Cambodia, he's been a producer and researcher for Hanuman Films, a product manager at Hanuman Travel, and the media officer with Phnom Penh Crown FC. Since 2020, he developed a personal research, Exploring Khmer Art Worldwide, published as an ongoing series on his Facebook page, that will be soon hosted on Angkor Database.