King Jayavarman VII in Angkor Thom
by Andy Brouwer
Entry #5 in Khmer Art Worldwide Collection
Published: October 25th, 2021
Author: Andy Brouwer
Height: 138 cm. Sandstone
Late 12th - early 13th century
Provenance: Krol Romeas, Angkor Thom, Siem Reap Province
Location: National Museum of Cambodia, Phnom Penh
Catalogue Number: NMC Inventory Ka.1703
Status: on display
Without doubt, the most recognisable historical image among Cambodia's citizens is that of King Jayavarman VII, particularly in this beautiful pose of supreme humility, compassion, power and knowledge, which stands proudly in the National Museum of Cambodia in Phnom Penh. But do you know the story behind the statue? A true symbol of national pride for all Cambodians, King Jayavarman reigned from 1181 until 1218 and left an indelible imprint on the Cambodian psyche as a humane ruler devoted to the well-being of his people and to Buddhism. Simplistic human portraits like this, spread around the kingdom, and appearing to make the monarch far more accessible than ever before, helped to secure that legacy.

Large stone images of Jayavarman were distributed throughout the extended Kingdom that stretched into neighbouring Thailand, Laos and Vietnam, in the late 12th and early 13th centuries. Currently, there are examples in sandstone to be seen at the National Museum in Phnom Penh, at the Angkor National Museum, the Guimet Museum in Paris and the Phimai Museum in northeast Thailand. The temple construction program undertaken during his reign was nothing less than incredible. Besides the stupendous temples at Angkor Thom, Bayon, Ta Prohm, Preah Khan, Banteay Kdei, Banteay Chhmar and more, the King also pioneered an innovative network of hospitals, which can be measured by the fact that Europe's first hospital, didn't appear for another two hundred years. Add to that a system of roads and rest-houses linking various parts of the Empire and you can clearly understand why Cambodians revere this King above all others from ancient history.
Scholars concur that this is a likeness to a mature Jayavarman VII, with several similar images also adding weight to that conclusion. For this naturalistic exhibit, the modern story began in 1924 when six parts of the sandstone statue were found near the North Gate of Angkor Thom at the temple of Krol Romeas. Seven years later, in 1931, the head was located near the Gate of the Dead, and the pieces were reunited, with the statue finding its home at the museum in Phnom Penh by the end of 1934. However, there were no arms to be found.
That naturally posed the question, were his hands in meditation pose on his lap or were they raised in some way. A team of experts revealed in late 2019 that in fact, with the aid of fragments of arm and hands housed at the Angkor Conservation depot in Siem Reap, that they were a perfect match to the torso of the statue in Phnom Penh. The mystery was solved – the arms of King Jayavarman VII were in the form of a traditional Cambodian respectful greeting, a sampeah at chest level. We hope that one day soon, the arms will be reattached to complete the statue.
In 1998 under the supervision of French EFEO stone expert Bertrand Porte and a team of Khmer specialists, it took six months of precise restoration work to repair the exhibit ready for Cambodia's first National Cultural Day in April 1999, when the King and Queen Mother oversaw the statue's inauguration after its renovation at the museum.
Tags: Jayavarman VII, Angkor Thom, Bayon style, Khmer sculpture, museums, National Museum of Cambodia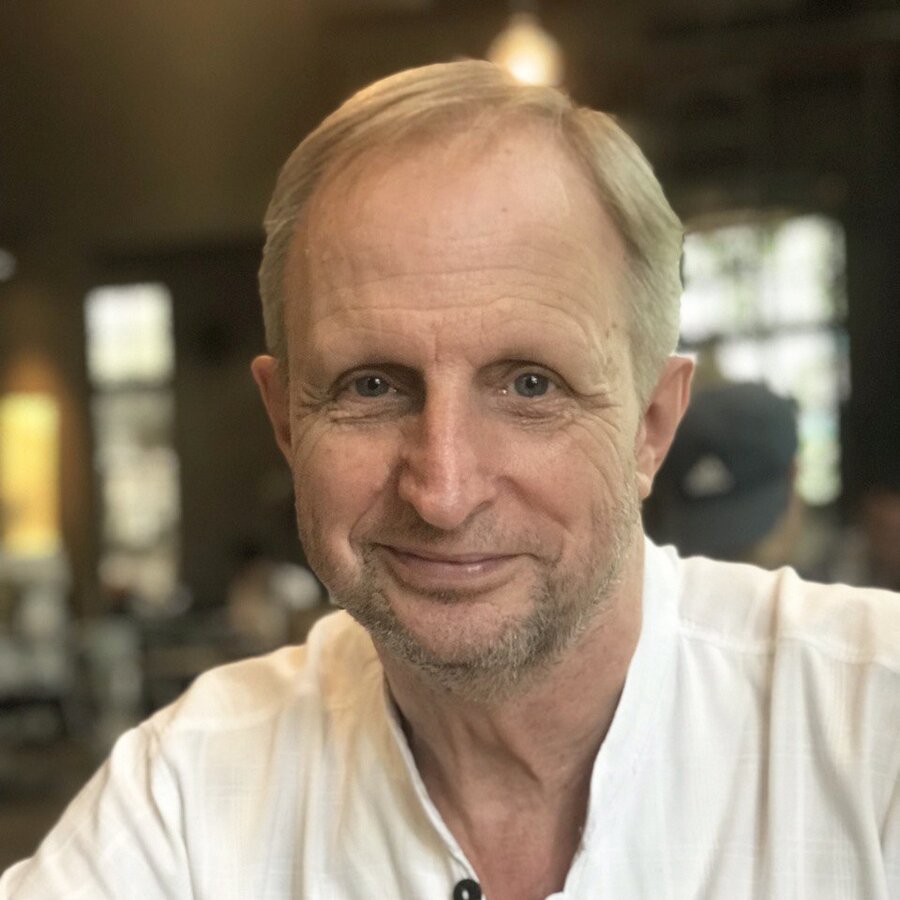 Andy Brouwer
Cheltenham-born and bred, Andy Brouwer (1959, UK) made his first trip to Cambodia in 1994, and that white-knuckle ride hooked him for life. He upped sticks to Phnom Penh in 2007 after more than thirty years in banking back in the UK to join Hanuman Films.
As well as having a serious obsession in temples, books -- he's the editor of the guidebook To Cambodia With Love --, and pretty much all things Khmer, he is a lifetime supporter of Leeds United and has an insatiable passion for the music of Steel Pulse and Ennio Morricone. His website relives his numerous visits to Cambodia, and more.
During his time living in Cambodia, he's been a producer and researcher for Hanuman Films, a product manager at Hanuman Travel, and the media officer with Phnom Penh Crown FC. Since 2020, he developed a personal research, Exploring Khmer Art Worldwide, published as an ongoing series on his Facebook page, that will be soon hosted on Angkor Database.