Lintel - Prasat Sralao
by Andy Brouwer
Entry #8 in Khmer Art Worldwide Collection
Published: 2021
Author: Andy Brouwer
Height (cm): 81.5, Depth (cm): 185. Sandstone
10th century
Provenance: Prasat Sralao, Siem Reap Province
Location: National Museum of Cambodia, Phnom Penh
Catalogue Number: NMC Inventory Ka.1819
Status: On display
Photo credits: Andy Brouwer
For sheer artistry and exceptional beauty, this 10th-century pink sandstone lintel from Prasat Sralao is the most beautiful example of a decorative door-lintel on show at the National Museum. It was collected from the now-ruined temple by the curator of the Angkor site, Henri Marchal, in March 1937 and after a short stay at the Conservation depot in Siem Reap, was transported to the Phnom Penh headquarters for display to the general public.

Whilst the main subject is the god Vishnu riding atop his mount, the winged Garuda (usually termed as Garudavahana), it's the deep and richly intricate carving of every element that stands out as the perfect specimen of the Banteay Srei style of that era in Angkorian history. The temple of Banteay Srei is encrusted with gorgeous carvings but the Prasat Sralao lintel comes from a very small temple just outside the main Angkor Park, though built during the same time period, and rivals anything that its mother temple can produce. It's almost a certainty that the same craftsmen worked on both temples simultaneously.
The central motif shows a four-armed Vishnu, holding four attributes in his hands, and sitting on top of Garuda, who holds and supports the right foot of the god above him. On the lotus foliage branch either side are tiny heads of three-headed serpents called Nagas, and at the end of the branch is another Garuda, carrying in his mouth, a larger three-headed Naga. The upper frieze is decorated with twelve male dancing figures. All of this is exquisitely sculpted in the Banteay Srei style that is rightfully acknowledged as among the finest that the Khmer Empire had to offer. Sralao denotes a type of tree, popular around Angkor and which produces wood used for construction. Any top-quality woodcarver would be proud to have produced such elegant and delicate carving as the master stonemasons of the Banteay Srei era in history.
ADB Input: Read more about Prasat Sralao, Situated 5 km north-west of Angkor Thom North Gate. The sralao tree ស្រឡៅ is a crape myrtle (Lagerstroemia). A famous song by Sin Sisamuth and Ros Sereysothea is called ម្លប់ដើមស្រឡៅ, In the Shade of the Sralao.
Tags: Vishnu, Garuda, lintels, Banteay Srei style, Khmer sculpture, museums, National Museum of Cambodia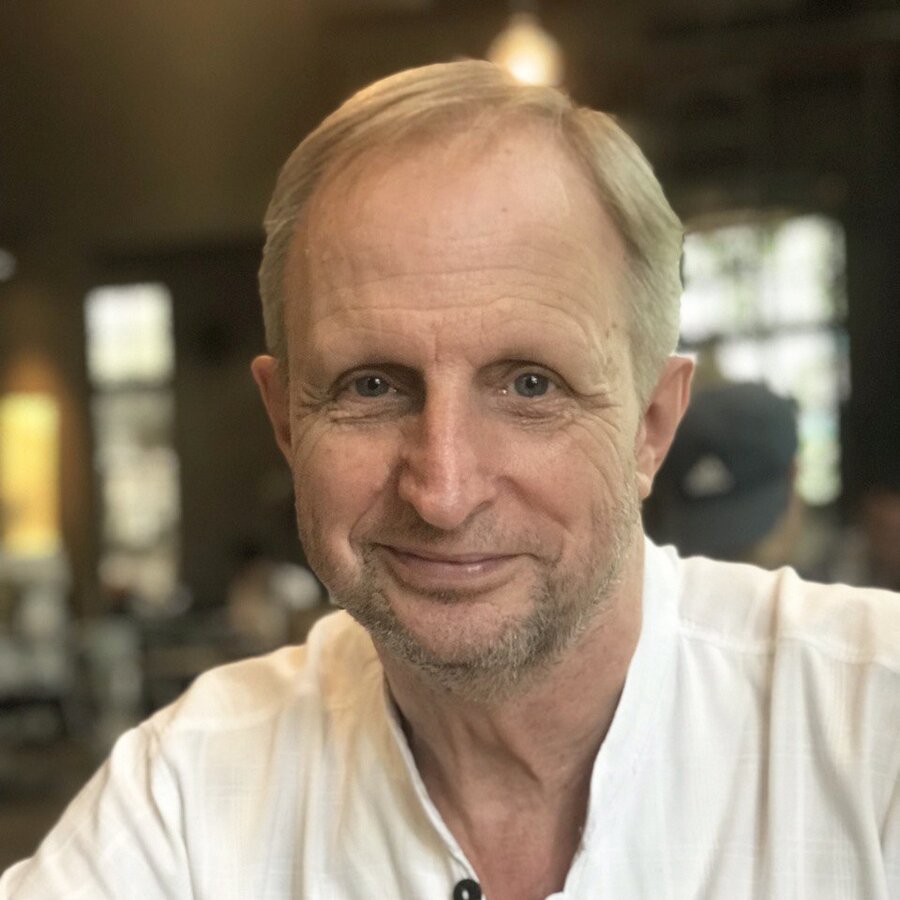 Andy Brouwer
Cheltenham-born and bred, Andy Brouwer (1959, UK) made his first trip to Cambodia in 1994, and that white-knuckle ride hooked him for life. He upped sticks to Phnom Penh in 2007 after more than thirty years in banking back in the UK to join Hanuman Films.
As well as having a serious obsession in temples, books -- he's the editor of the guidebook To Cambodia With Love --, and pretty much all things Khmer, he is a lifetime supporter of Leeds United and has an insatiable passion for the music of Steel Pulse and Ennio Morricone. His website relives his numerous visits to Cambodia, and more.
During his time living in Cambodia, he's been a producer and researcher for Hanuman Films, a product manager at Hanuman Travel, and the media officer with Phnom Penh Crown FC. Since 2020, he developed a personal research, Exploring Khmer Art Worldwide, published as an ongoing series on his Facebook page, that will be soon hosted on Angkor Database.