Shiva and Uma, Husband and Wife - Banteay Srei
by Andy Brouwer
Entry #11 in Khmer Art Worldwide Collection
Published: October 26th, 2021
Author: Andy Brouwer
This is of one of the favourite exhibits of many visitors of the National Museum of Cambodia, because of its simple beauty. We have here the divine husband and wife team, Shiva and Uma, known as Umamahesvara (Mahesvara is an alternate name for Shiva, considered the most divine of all the Hindu gods). As a couple they are often shown riding on the back on Nandin the bull, but in this polished sandstone sculpture, Shiva's diminutive wife is sat on his left knee and in his right hand, he holds a lotus. You can also see a third all-seeing eye on his forehead. Uma's legs are folded to her left, while her right-hand rests in the middle of her husband's back. The same image of the royal couple can be found on temple lintels and pediments and in statues of bronze. It is beautiful in its simplicity.

It is one of the finest exhibits to have been rescued from the petite temple of Banteay Srei, twenty-five kilometers north-east of the Angkor temples. It was removed from the west gopura in 1914 by Lieutenant Marec, who was the first to report of the temple's existence, buried under a mound of earth and vegetation. As we know, Banteay Srei is now regarded by many as the perfect temple for its fabulous relief carvings. Marec brought the 10th century sculpture to Phnom Penh in November 1918 for its safety and it was later installed in the collection for the opening of the Albert Sarraut Museum (which later became the National Museum) in 1920. Unfortunately, Uma's head is missing, hacked off by a thief, when it was on display during the 1970s.
Tags: Shiva, Uma, Banteay Srei, Khmer sculpture, museums, National Museum of Cambodia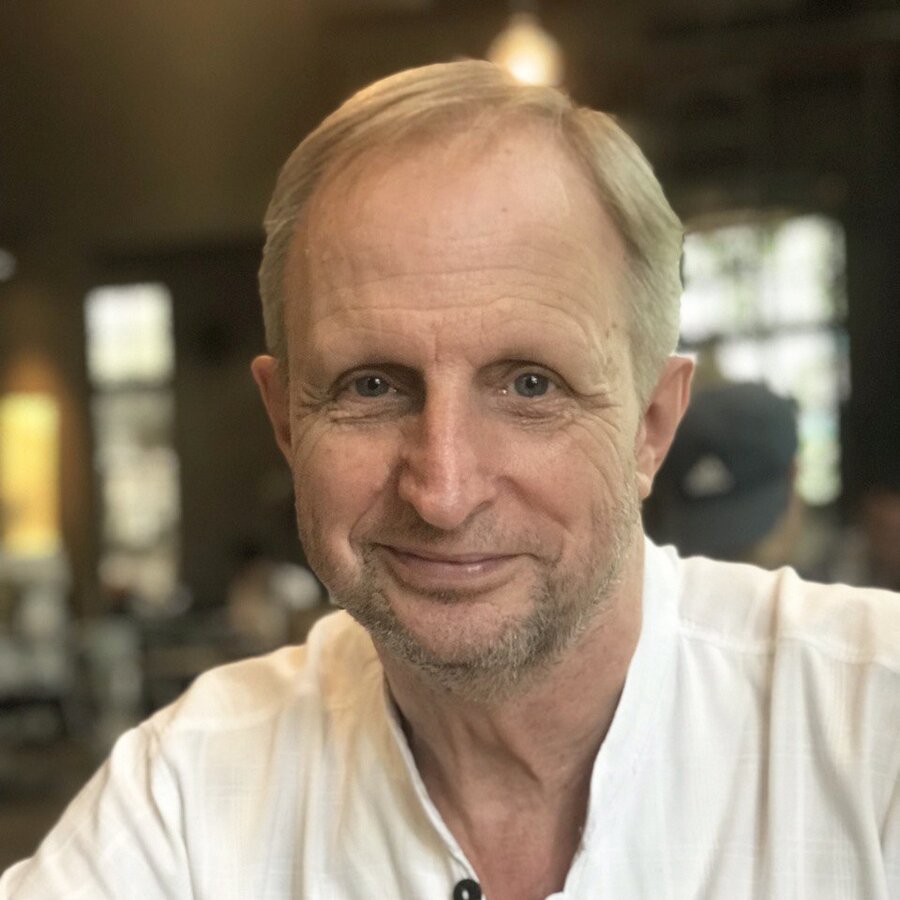 Andy Brouwer
Cheltenham-born and bred, Andy Brouwer (1959, UK) made his first trip to Cambodia in 1994, and that white-knuckle ride hooked him for life. He upped sticks to Phnom Penh in 2007 after more than thirty years in banking back in the UK to join Hanuman Films.
As well as having a serious obsession in temples, books -- he's the editor of the guidebook To Cambodia With Love --, and pretty much all things Khmer, he is a lifetime supporter of Leeds United and has an insatiable passion for the music of Steel Pulse and Ennio Morricone. His website relives his numerous visits to Cambodia, and more.
During his time living in Cambodia, he's been a producer and researcher for Hanuman Films, a product manager at Hanuman Travel, and the media officer with Phnom Penh Crown FC. Since 2020, he developed a personal research, Exploring Khmer Art Worldwide, published as an ongoing series on his Facebook page, that will be soon hosted on Angkor Database.