Shiva Ardhanarishvara ("God is a Half-Woman"), II
by Andy Brouwer
Entry #3, Khmer Art Worldwide Photo Collection by Andy Brouwer
Published: October 2nd, 2021
Author: Andy Brouwer
Height: 93cm. Sandstone
10th century
Provenance: Possibly Koh Ker
Location: National Museum of Cambodia, Phnom Penh
Catalogue Number: NMC Inventory – To be determined
Status: Repatriated September 2021 from The Latchford Collection; under repair
Photo credits: Cambodian Ministry of Culture (1,2); Latchford Collection, before and after repair (3,4)
I said that figures of Ardhanarishvara (God as a Half-Woman) are rare, yet there was a beautiful albeit damaged Khmer sculpture of a half-male, half-female deity among the five pieces from the Latchford Collection returned to Cambodia in October 2021, registered as a Half-Male Half-Female Deity.
The sculpture had been sold at a Paris Christie's auction in 2016 (From a private Luxembourg collection via Galerie Moderne, Brussels, 22 Oct.1962, lot 776. Price realized EUR 80,500). According to the auction catalogue description (from Latchford's book, Adoration & Glory ), "the deity is depicted kneeling on a rectangular plinth. His right hand is resting on one knee and the other was probably extended forward. Dressed in a pleated sampot, the torso is half-feminine, half-masculine. The face gives off an enigmatic smile and is wearing a crown and a tiara.
"The right side shows the male component with the face framed by a moustache and a beard while the female part demonstrates a prominent breast. No other examples of this kind seem to have been published. It remains difficult to ascertain their correct iconographic name. Unfortunately, the attributes are also broken and damaged, which does not help to further identify them. The date of its creation can be placed in the Koh Ker period. It is known that this period saw interesting and innovative developments in architecture and also iconography intended for temple shrines. This sculpture fits well in such an innovative tradition. The Koh Ker rulers adhered to the Hindu religion, especially the Shaiva sect. As a consequence, this particularly composed deity most likely has a Hindu background.
"Yet, the presented figure cannot be identified as Shiva and Parvati as Ardhanarishvara. Shiva's forehead would have the third eye and his hair should be combed in the matted hair lock style or jatamakuta. Vishnu and Lakshmi would wear the depicted crown or kiritamakuta. Although in known non-Khmer examples, they could be standing and have multiple arms. However, it is not to be excluded that this fine and enigmatic sculpture represents the androgynous form of Vishnu and Lakshmi. Otherwise, the sculpture could depict a royal couple who identified themselves with the god of Preservation and his consort."(© Christie's)
This statue is currently undergoing further examination in Phnom Penh, since the repaired damages do not seem to correspond to the photos submitted to the Cambodian authorities by the Latchford Estate in 2020.
Other versions of this particular type of sculpture:
Ardhanarishvara (Composite of Shiva and Parvati), 7th–8thC. Bronze, 75cms. Donated to MMA, 1993:
© The Metropolitan Museum of Art. Photo (MET website)
Half-Male, Half-Female Shiva known as Ardhanarishvara, 10thC. Sandstone. On loan at MMA from 1994 until donated in 2015:
© The Metropolitan Museum of Art (MET website)

Ardhanarishvara (composite of Shiva and Parvati), 10thC. Sandstone:
© Honolulu Museum of Art, and available under the Creative Commons CC0.

Tags: Shiva, Ardhanarishvara, museums, Khmer sculpture, androgyny, art restitution, looting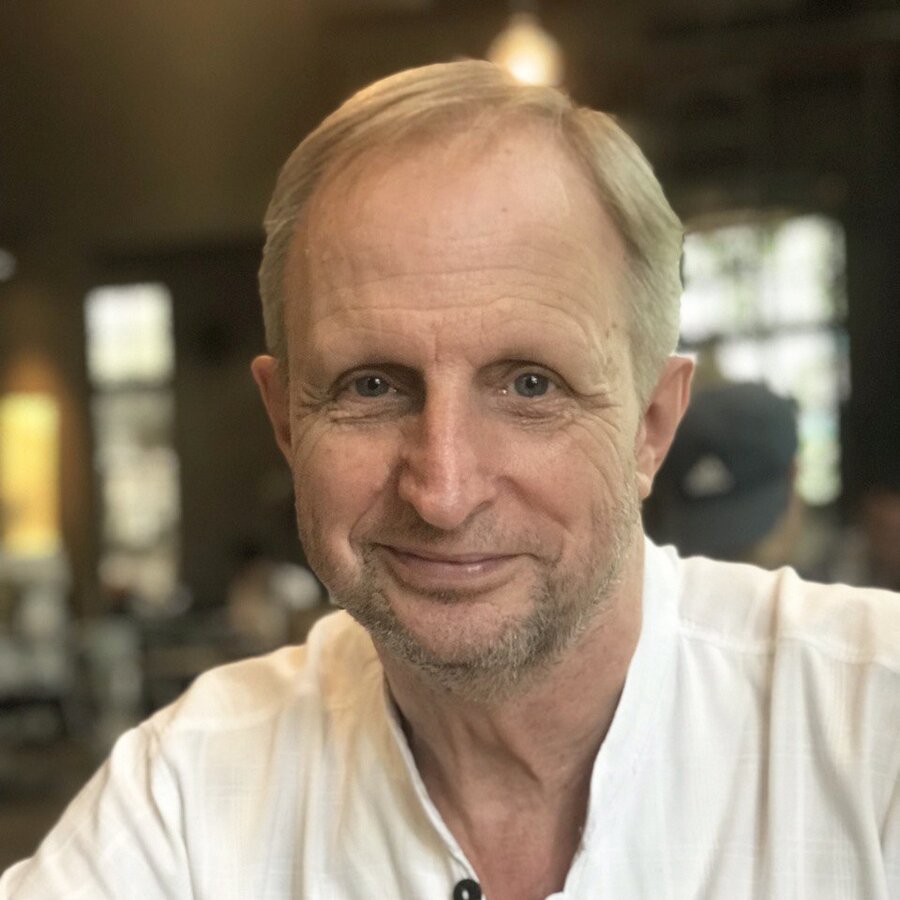 Andy Brouwer
Cheltenham-born and bred, Andy Brouwer (1959, UK) made his first trip to Cambodia in 1994, and that white-knuckle ride hooked him for life. He upped sticks to Phnom Penh in 2007 after more than thirty years in banking back in the UK to join Hanuman Films.
As well as having a serious obsession in temples, books -- he's the editor of the guidebook To Cambodia With Love --, and pretty much all things Khmer, he is a lifetime supporter of Leeds United and has an insatiable passion for the music of Steel Pulse and Ennio Morricone. His website relives his numerous visits to Cambodia, and more.
During his time living in Cambodia, he's been a producer and researcher for Hanuman Films, a product manager at Hanuman Travel, and the media officer with Phnom Penh Crown FC. Since 2020, he developed a personal research, Exploring Khmer Art Worldwide, published as an ongoing series on his Facebook page, that will be soon hosted on Angkor Database.