Vishnu, Rama, Balarama - Phnom Da
by Andy Brouwer
Entry #7 in Khmer Art Worldwide
Published: October 25th, 2021
Author: Andy Brouwer
Height (cm): Vishnu - 288.5, Rama - 179.8, Balarama - 185.5. Sandstone
6-7th century, Pre-Angkor
Provenance: Phnom Da, Angkor Borei, Takeo Province
Location: National Museum of Cambodia, Phnom Penh

Catalogue Number: NMC Inventory: Vishnu - Ka.1639, Rama - Ka.1638, Balarama - Ka.1640
Status: On display

Photo credits: Andy Brouwer
The pre-Angkor (6th-8th century) collection at the National Museum is simply remarkable and standing tall, quite literally, among its exhibits are three dramatic artworks all from the same location, Phnom Da, a small hill close to the town of Angkor Borei in Takeo province, 80 kms south of Phnom Penh. This was a center of the important Funan state that pre-dated Angkor, and which produced a series of sculptures which are among the earliest at the museum, though their dates are debated by scholars. Initially thought to be early 6th century, more recent theories place them early to mid-7th century. That's for the experts to decide on their age, what's obvious, is that the workmanship of these three statues - Vishnu, Rama and Balarama - is exceptional.
All three were found by Henri Mauger during excavations at the Phnom Da site at the beginning of 1936. Mauger, who had a tempestuous relationship with his employers École française d'Extrême-Orient, undertook the restoration of Phnom Da in 1935 and 1936. The three statues were moved to Phnom Penh, renovated and placed on display. They are carved from a hard and dense sandstone, not schist as initially thought, and very different from the sandstone used in later centuries. Mauger's initial identification of the eight-armed gigantic statue as Shiva was later disputed by other experts who gave an argument that it represented Vishnu, and this has since remained the prevailing opinion.
The three are not a triad, though the treatment of their faces, hands and torsos strongly suggest the same artists sculpted all three, and their status as avatars gives them a connection to Vishnu. Rama (photos 5,6), identified by his bow, a hero of the tales of the Hindu epic Ramayana and the Khmer Reamker; and Balarama (photos 7,8), who carries a plough, appears in the Mahabharata. Whilst the sculptures reveal traditional Indian stylistic influences, the Khmer artists decided to sculpt them as freestanding images, supported by an arch or supporting struts, for the first time. On arrival at the museum in 1936, initial restoration was carried out, though between 2000 and 2007, the museum's stone conservation team undertook major reconstruction to give us the sculptures you see today. At the time of their discovery, the three statues were in fragments and it wasn't until 1990 that the left foot of Vishnu was identified.
The eight-armed Vishnu (photos 1,2,3,4) – which stands ten feet tall - with its commanding cylindrical miter, represents the god's cosmic appearance as universal ruler, or chakravartin. One of the earliest and most magnificent of Khmer sculptures, it shows the new practice of retaining an arch of the original stone block to support the head, arms and the attributes held in the hands. Some of these (flame, deer skin, flask) are not usually carried by Vishnu and this has created the division between experts in his identification. The Phnom Da style, the earliest Brahmanic style in Khmer art, is characterized by deities with an oval face, aquiline nose, sensitively modelled mouth and elegant continuous arch of the brow. Also typical are the naturalist modelling of the torso and delicate rendition of the draped cloth.
This Vishnu has its own name, Hari-Kambujendra, from a later inscription found at the temple. His attributes from top to bottom, on the right; flames of fire, a short mace, the hide of an antelope, a long mace, and on the left; unknown object, sword, vajra (lightning bolt) and vase. Rama, with a slight hip-sway to the left and carrying a bow in his left hand, stands over six feet in height. Balarama, the brother of Krishna, with his weapon of choice, a plough, is also six foot tall.
From 14 November 2021 until the end of January 2022, an eagerly-awaited exhibition of the eight Phnom Da gods, called Revealing Krishna, will take place at The Cleveland Museum of Art in Ohio, USA. The first-of-its-kind exhibition, will include four sculptures but all eight gods will be reunited in high-resolution, life-size 3D models to reveal a story spanning 1,500 years.
Tags: Vishnu, Rama, Balarama, pre-Angkor, Phnom Da style, Khmer sculpture, museums, National Museum of Cambodia
Tags: Vishnu, Rama, Balarama, Pre-Angkorian, Phnom Da style, Khmer sculpture, museums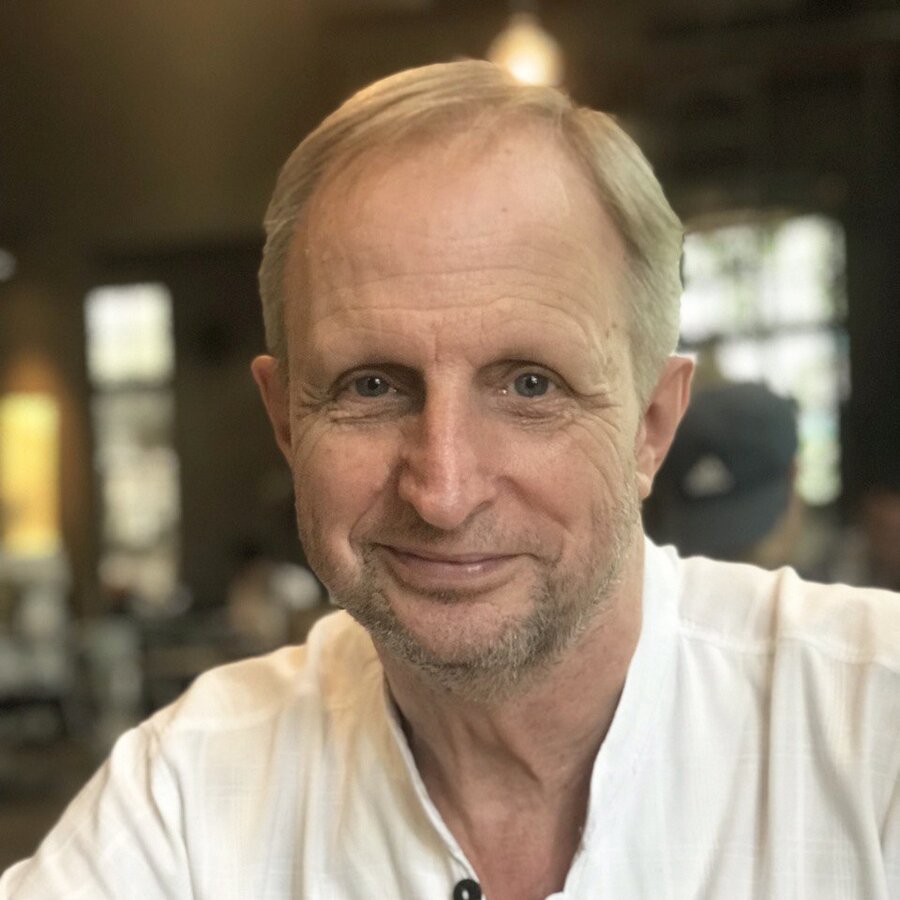 Andy Brouwer
Cheltenham-born and bred, Andy Brouwer (1959, UK) made his first trip to Cambodia in 1994, and that white-knuckle ride hooked him for life. He upped sticks to Phnom Penh in 2007 after more than thirty years in banking back in the UK to join Hanuman Films.
As well as having a serious obsession in temples, books -- he's the editor of the guidebook To Cambodia With Love --, and pretty much all things Khmer, he is a lifetime supporter of Leeds United and has an insatiable passion for the music of Steel Pulse and Ennio Morricone. His website relives his numerous visits to Cambodia, and more.
During his time living in Cambodia, he's been a producer and researcher for Hanuman Films, a product manager at Hanuman Travel, and the media officer with Phnom Penh Crown FC. Since 2020, he developed a personal research, Exploring Khmer Art Worldwide, published as an ongoing series on his Facebook page, that will be soon hosted on Angkor Database.