Visions of Angkor by...Therese Le Prat
by Thérese Le Prat
Photographic essays by famous or budding photographers. A forum for young and confirmed talents.
Published: 1937
Author: Thérese Le Prat
A hired travel photographer wandering through the Far East in the 1920s and 1930s, Thérèse Le Prat befriended the members of the Philippe Stern's archaeological mission in Cambodia in 1936-1938.
Apart from the high quality of her numerous shots with analogue cameras (argentique), it is remarkable to observe how her style in Angkor Wat and other temples evolved from a mere leisure travel approach to documenting with great precision the Khmer monuments, and helping the archaelogists to better understand the history behind the stones.
Reviewing Therese Le Prat´s Cambodian photographic work in the light of the archaelogical findings then in process is thus particularly interesting. When she took her most memorable shots, Philippe Stern -- with whom she was then getting romantically involved -- was developing his novel theories on the datation of architectural styles across Khmer temples.
We understand why the photographer took particular interest in some monuments and architectural elements while the archaelogist was precisely completing a listing of ¨Bayon style¨ sites. In his essay, he mentions:
´. east of Angkor City and beyond its walls, the large Ta Prohm, the middle-sized Banteay Kdei and (at least in part) the smaller temple of Ta Nei;
. north of Angkor City, the great Preah Khan of Angkor and its satallites: Neak Pean, Banteay Prei, Pràsàt Prei, Krol Kô, Tà Som, Banteay Thom;
. in the city proper, the sculpted terraces facing the Royal Palace and possibly some smaller monuments in the Preah Pithu group, etc. ;
. far from Angkor to the west, the very large complexe of Banteay Chhmàr, entirely in the Bayon style ;
. to the south, the provincial temples of Vat Nokor and Tà Prohm at Bati ;
. to the east, about 100 km from Angkor, numerous and important additions in the Bayon style to the more ancient Preah Khan at Kompong Thom...´
Many of the above mentioned monuments were detailed in Thérèse Le Prat work.
Photo 1: Bodhisattva in Neak Pean by Therese Le Prat, 1937.
Several of the author's silver prints have been auctioned on Mutualart.
Tags: architecture, archaeology, Lokeshvara, Bayon, Banteay Chhmar, Ta Prohm, Neak Pean Temple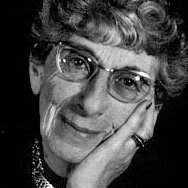 Thérese Le Prat
Thérese Le Prat born Cahen (19 March 1895, Pantin, France - 6 March 1966, Neuilly sur Seine) was a renowned photographer who worked on Cambodia, Tonkin and Annam (Vietnam) during several decades.

When she divorced French publisher Guillaume Le Prat in the early 30s, he offered her a Rollex camera and, thanks to her dawning talent and she was employed by the Compagnie des Messageries maritimes as a reporter, mainly in Asia, Oceania and Africa. In Hanoi and Cambodia, she met and befriended Gilberte de Coral-Rémusat, for whom she illustrated several publications.
After World War II, she married Philippe Stern, eminent specialist in Far East civilizations and close friend of Gilberte's, and specialized in portrait photography, portraying major artists, dancers, writers, actors and actresses. She was also an acclaimed theater stage photographer.
In 1992, her archives containing some 18 000 negatives, 5 000 original prints, 15 000 contacts, and personal notes, was donated to Musée du Jeu de Paume, Paris. In 2015, a collection of 140 silver prints capturing mostly Khmer temples (Bayon, Phum Prasat, Angkor Thom…) and daily life in Tonkin and Annam, was auctioned and bought at Galerie Drouot, Paris.
Photo: Portrait of Vietnamese leader Ho-Chi-Minh in 1945, by Thérese Le Prat: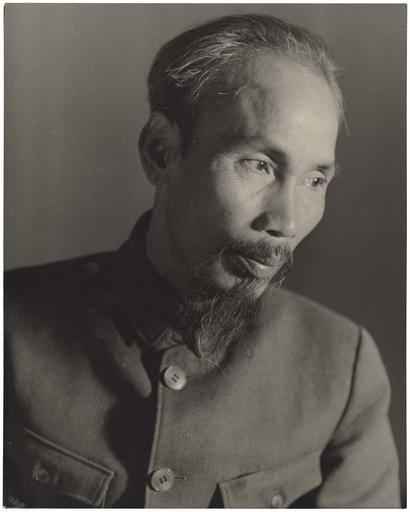 Below, on 24 May, 1939, Therese Le Prat joined Gilberte de Coral-Rémusat for a conference in Paris on Photographs from India, Indochina and Oceania (source: Le Temps/BNF):