Pearic Language in the Cardamom Mountains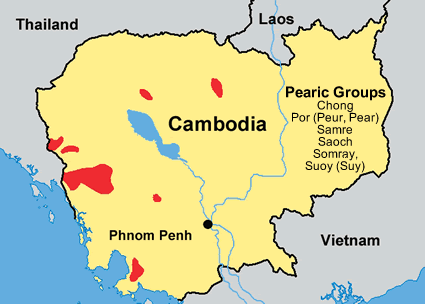 From the Pangloss platform: "The recordings made available consist of a collection of audiotape records, collected by Marie-Alexandrine Martin from the late 60's and the middle 70's. She entrusted a copy of her recordings to Michel Ferlus, who suggested that they should be digitized along with his own collections. Marie Alexandrine Martin's heirs enthusiastically agreed to the archiving and online diffusion of her collection.
'Digitization was conducted by Alexis Michaud, and cataloguing by Michel Ferlus and Julien Heurdier.
'The set consists of several recordings of Khmer dialects and Pear languages (Pear, Chong, and Samre) spoken in or around the Cardamom mountains (West Cambodia and East Thailand). It also includes a short recording of Brao and Tampuan (Bahnaric languages of Ratanakiri province, North-East Cambodia).'
---
Photo: Cambodian Research Network
Tags: linguistics, ethnic minorities