The Journal of The Siam Society Online
The prestigious publication in Thai and Southeast Asian studies now online.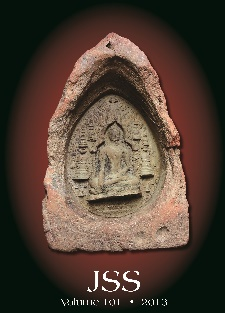 Published on a yearly basis (and recently twice a year) since 1904, the Journal of The Siam Society is now available online thanks to a collaboration between the Siam Society and ThaiJO (ThaiJournals Online).
While this important online collection starts only from 2008 for the time being, the digital edition of previous years is currently under processing. For copyright reasons, issues of The Journal appear on this website two years after their initial print publication.
Many prestigious Khmerologists have contributed to the Journal over the last hundred years.
Tags: Siam, Khmer civilization, archeology, epigraphy, Khmer history, Thailand, Southeast Asia, Cambodian arts, Cambodian research