A First-Century Stele from Sriksetra
by Pamela Gutman & Bob Hudson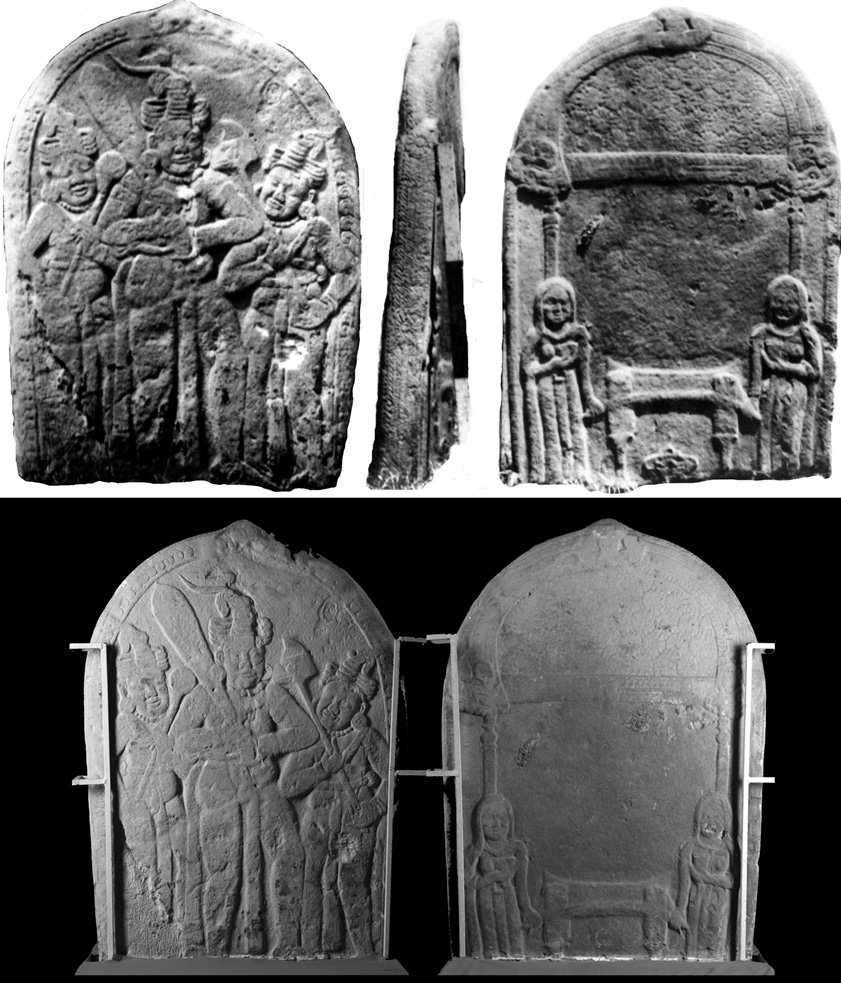 Publication: BEFEO 99 (2012-2013), p. 17-46.
Published: 2014
Pages: 30
Language : English
The archaeological evidence here discussed is a sandstone throne-stele found in the 1970s some 70 meters from the palace in the center of an ancient Pyu city, Sriksetra. At the end of this essay publication, it was displayed at Yangon (Rangoon) National Museum.
Burma (Myanmar) being closer to the Indian subcontinent than southern Southeast Asia, it is not surprising to find there remains indicating Indic influences as early as the 1st century CE. And as it occurs in Cambodia or Vietnam, this particular engraved stone shows how earlier animist beliefs blended into newer philosophies and religious practices.
In effect, according to the authors, 'the stele continues an earlier tradition involving ancestor worship and the spirit of the soil. It marks the transformation of an older society to one where Indic traditions were recognised as a way to gain power over a diversifying, urbanising society. And the practice of venerating large stones was absorbed into Pyu Buddhist art some centuries later.'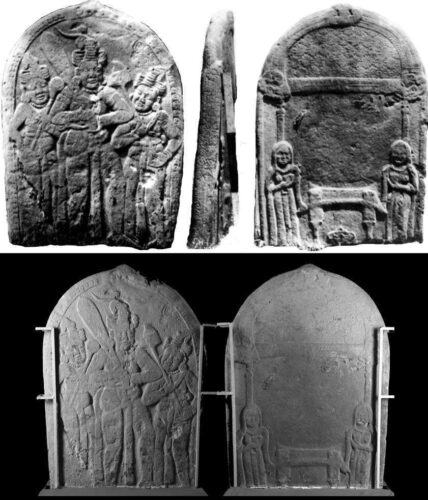 The Sriksetra warrior/throne stele. Height 135 cm. Upper: Bob Hudson, composite, after Archaeology Department Myanmar photos. Lower: as displayed in National Museum, Yangon, photo Zaw Min Yu.
Analyzing motives and religious images, the authors point toward early Buddhist and Saivist influences coming from Sri Lanka and North India, and show how trade routes helped the dissemination of religious beliefs in Southeast Asia.
They stress similarities with pre-Angkorean Cambodia: "A similar Saivite tradition connected pre-Angkorean Cambodia with Saiva pilgrimage sites in India. Alexis Sanderson says: "In the pre-Angkorean period most of the Sivas whose installation in Liṅgas is recorded in our inscriptions, at least two thirds, were given the names of the Sivas of venerable Saiva sites of pilgrimage in India. They have a name in -ishvara preceded by the name of one of those sites, meaning, therefore, 'the Shiva of X', or the name (in -ishvara) of the deity that presides there. The effect of the practice is to transfigure the Khmer realm by creating a Saiva landscape whose sacred enclaves could be seen as doubles of those of the religion's Indian homeland."
Tags: Indic influences, Indian influences, urbanism, Burma, Early Southeast Asia, Pyu, inscriptions, archaelogy, art history, Saivism, Buddhism, pre-Angkorean, trade
Pamela Gutman
Pamela Gutman (1944- 31 March 2015) was an Australian researcher, a pioneering art historian specialized in Burmese art and a consultant on national policy on immigration and multiculturalism.
In 1972, she got permission to undertake research in Burma (now Myanmar) for her PhD thesis "Ancient Arakan, with Special Reference to Its Cultural History, 5th to 12th Centuries", often with military escort in this troubled country.
Held as an authority on Ancient Burmese Art, Pamela Gutman The regard in which she was held as an authority was often consulted by major galleries in Australia and overseas, including by The Hermitage in St Petersburg and the Asia Society in New York.
Bob Hudson
A doctor in archaelogy from University of Sydney under the supervision of Pr. Roland Fletcher, academic researcher Bob Hudson has been studying early civilizations and urban systems in Myanmar (Burma), in particular the Bagan temple complex (some 3,400 buildings recensed so far) and the ancient Pyu language.
An adviser to the Mrauk-U UNESCO World Heritage application, and to the 2014 UNESCO inscription of Bagan and Pyu Ancient Cities, Dr. Bob Hudson is a visiting fellow in Archaeology at Yangon University, Myanmar, a visiting lecturer at the Myanmar Department of Archaeology Field School at Pyay (the site of the Pyu city of Sriksetra), and a patron of the Myanmar Archaeology Association.