A Possible Early Thai Route to the Sea
by William J. Gedney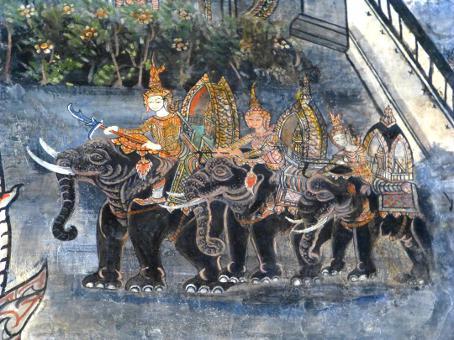 Publication: Journal of the Siam Society, Vol. LXXVI, Part 1, pp 12-18
Published: 1988
Pages: 6
Language : English
From the introduction: "We now know that before the founding of the Thai city of Ayutthaya in 1351 A.D. the Chao Phraya valley was populated by speakers of a variety of Mon. That the Cambodians were also in the area is shown by the well-known ruins at Lopburi. A Cambodian scholar in Phnom Penh told me many years ago that it is their understanding that there was also a Cambodian town at the place where the Thai city of Ayutthaya was later built. If this is true, one wonders whether the Cambodians constructed no permanent buildings like those at Lopburi. Perhaps they were demolished or recycled in the course of building the Thai city."
Among the numerous topics this paper is concerned with, we would stress the following remark: "It may be that Ayutthaya at first represented an eastward extension of Thai authority already well established in the west at Suphanburi and probably also other towns. This push to the east continued, culminating in the conquest of the Khmer capital at Angkor in the middle of the 15th century. Why did the Thais not take over and remain in Cambodia? Perhaps they were not numerous enough, and/or perhaps the threat of Cambodian resistance was too great."
Photo: Ayutthaya King Borommaracha II bringing back relics from Angkor after year 1431 CE attack (from The Kings of Ayutthaya by Robert Smith)
Tags: Thailand, Ayuthya, Mon, Mon-Khmer, linguistics, decline and fall
William J. Gedney
William J. Gedney (4 Apr 1915, Orchards, WA - 14 Nov 1999, Ann Arbor, MI, USA) was a linguist specialized in Southeast Asian languages, studying and documenting Thai and twenty-two more idioms.
in 1947, he moved to Thailand and worked with some of the most important scholars in Thai literature and linguistics. In 1953, he married Choy Manachip, a native of Ayuthhaya, one of the Thai native speakers consulted for the grammars written by Richard B. Noss.
In 1975, he donated the vast (14,000 volumes) collection of Thai books he had gathered to the University of Michigan, USA.