A proposed relationship between Champa and Chola dynasties during the 11th and 13th centuries
by Ky-Phuong Tran & Tu-Anh Thi Nguyen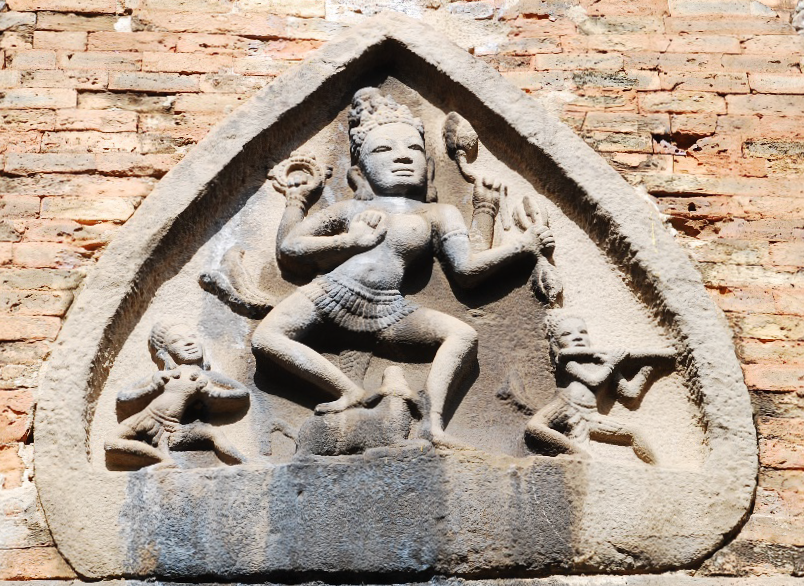 Publication: SEAMEO SPAFA Journal, Vol. 5
Published: 2021
Pages: 20
Languages : English, Vietnamese
"Although the connection of artistic features of Champa with the characteristics of South Indian art that were first noticed by art historians such as Jean Boisselier, Cecelia Levin and Pierre Baptiste , there remains a huge gap in knowledge of whether the achievements of the imperial Cholas influenced the religious art of Champa. This essay is an initial study of the issue based on the materials of Cham artworks created during the 11th to 13th centuries as well as the accounts of Vietnamese and Chinese historical sources", note the authors in preamble of this important contribution.

We'll retain, in particular:
"The bustle of Cham port-cities can be clues connected with the temple architectures and sculptures of Champa from the 11th to 13th centuries; the contemporary improvements in construction techniques as well as the new aesthetic trends in Cham art that will both prove the acquisition of Chola art; those things may have brought Cham art to a remarkable development during this period."
"In the early 11th century, ca. 1025, Chola King Rajendra I carried out the naval expeditions and was noted through inscriptions, "despatched many ships in the midst of the rolling sea"; and he also took over many port-cities of the famous Southeast Asian kingdom of Srivijaya in Sumatra as well as on the Malay Peninsula (Coedès 1968: 142-143). It was the only warlike incident occurred in the long peaceful and cultural relationship between India and its neighboring kingdoms in Southeast Asia."
"In Cham sculptural art, this type of offering - an altar 'bali-pitha' and the temple-base - represented a highly stylized lotus composition and appeared commonly during the 11th and 12th centuries. The typical sculptural works of this type including the well-known sandstone pedestal known as the 'Dancer of Trà Kiệu', measures in 270 cm wide x 110 cm high, created in the second half of 11th century, and is currently on display at the Danang Museum of Cham Sculpture now. Another square carved pedestal was engraved with four elephants and found at Triền Tranh site, Duy Trinh district, Quảng Nam province, which measures by 76 cm wide x 75 cm long x 63 cm high and now displayed at the Museum of Sa Huỳnh-Champa Culture in Trà Kiệu, Quảng Nam province. Besides, there are several temple-bases composed in stylized lotus shapes which are formed by a series of moldings beginning top and bottom with cyma which belonged to the Mỹ Sơn temple-complexes."
"The Chola naval expeditions may have been considered as not only military assistance to recover peace for Champa but also to "establish trading rights for Tamil-speaking merchants in those areas, a trade from which the ruler, the merchants and the Chola bureaucracy could expect sizable profit" in the context of the crisis of politics and economics of the Cham people in the period from the end of 10th to middle of 11th century, as it was pointed out by historians. In order to continue to decipher the key historical events that caused the strong influences of Chola art to Champa as well as to the other contemporary arts of Southeast Asian during the 11th to 13th century, especially, from the view of Champa as mentioned above, it will require more elaborate research work in the future."
Photo: The image of Durga or Mahisasuramardini on the pediment of Po Nagar Nha Trang temple, dated in the 11th century (photo by Tú Anh)
Full title: "A proposed relationship between Champa and Chola dynasties during the 11th and 13th centuries: A view from the historical sources and artistic evidences | Về mối quan hệ khả hữu giữa các vương triều Champa và Chola trong thế kỷ 11 đến 13: Nhìn nhận từ những cứ liệu lịch sử và nghệ thuật."
Tags: Chola, Champa, maritime routes, trade, art, archaelogy, 11th century, Indian influences, port cities, Cham civilization, architecture, sculptural art
Ky-Phuong Tran
TRAN Ky-Phuong (Trần Kỳ Phương) is a research fellow at National Library of Singapore (January to July 2008),and a senior researcher fellow with the Vietnamese Association of Ethnic Minorities Culture and Arts.
He was a curator of the Danang Museum of Champa Sculpture, Danang, from 1978 to 1998. After working on Champa architectural sites in Central Vietnam in 1993-96, Dr. Tran conducted field research in Thailand, Cambodia, Laos, Malaysia and Indonesia on Mon-Dvaravati, Pre-Angkor ruins and Javanese arts.
An active proponent of the collaboration between Cambodia, Laos and Vietnam in architectural research, Dr. Tran held in 2017 (with Soumya James) the SOAS Research Workshop "Approaches to the Study of Khmer and Cham Art". He also worked on several research projects with APSARA Authority, UNESCO World Heritage Sites and the Thai Center for Cultural Relationship Studies in Mainland Southeast Asia (CRMA Center).
He has published several books and articles in Vietnamese, English and Japanese, including: "Vestiges of Champa Civilization" (Gioi Publishers, Hanoi 2004), "The wedding of Sita: a theme from the Ramayana represented on the Tra Kieu pedestal" (in Narrative Sculpture and Literary Traditions in South and Southeast Asia, edited by Marijke J. Klokke, Brill, Leiden 2000", "Champa Iseki/ Champa Ruins" (co-authored with Shigeda Yutaka, Rangoo Shutsuhan, Tokyo 1997), "Artifacts and Culture of Champa Kingdom" (The Toyota Foundation, Tokyo 1994), and Museum of Cham Sculpture in Danang (Foreign Languages Publishing House, Hanoi 1987).
Tu-Anh Thi Nguyen
NGUYỄN Thị Tú Anh (Tu-Anh Thi Nguyen) is a PhD candidate in History of Art, School of Social Sciences and Humanities, Vietnam National University in Ho Chi Minh City. She graduated from SOAS, University of London in 2017-19 with a Diploma and Master of Art degree in History of Art and Archaeology. She is researching Champa and Óc Eo civilizations in Vietnam.
She is currently working on the Ho Chi Minh City Museum new catalog to be edited by SOAS-SAAP, with Dr. Peter Sharrock as Chief Editor, with a contribution on Oc Eo Gold.