Banteay, Royal Palace at Mahendraparvata
by Jean-Baptiste "JB" Chevance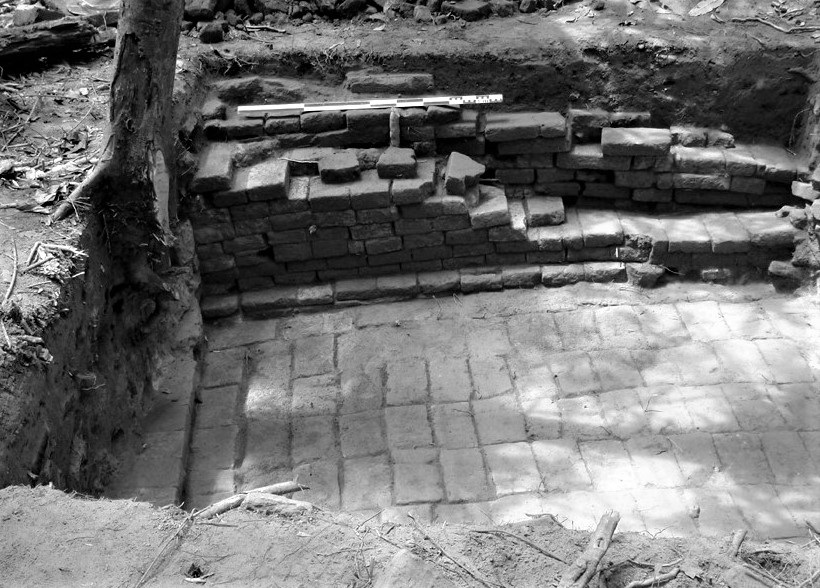 Publication: 'Banteay, palais royal de Mahendraparvata', in Aséanie, Vol 33.
Published: 2014
Pages: 52
Language : French
While pioneer archeologists back in the 1920s and 1930s had envisioned a large city on top of the Kulen Plateau, it was only at the end of the 1960s that first excavations indicated the remains of the Mahendraparvata Royal Palace.
Simply called "The Citadel" (Banteay), this site suggests that King Jayavarman II had erected a large palace as a center of royal power and social organization: just the inner rectangular structure is a 615 by 400 m polygon, according to the author, J.B. Chevance, who supervises to these days archeological and LIDAR inspections in the Kulen area.
The Banteay research at Phnom Kulen is important for our better understanding of Angkorean and pre-Angkorean buildings which were not only devotional places. Until recently, we knew of only few specific royal palaces, not fortified temples or temples used as royal mausoleums: the Yaśodharapura one in Angkor Thom, studied by Bernard-Philippe Groslier and Jacques Gaucher, the palaces built by sovereigns from Yaśovarman I to Sūryavarman I, and similar structures identified at Prei Montei (Hariharalaya) or Andong Preng (Koh Ker).
Of note: no less than 8,057 fragments of ceramic (cookware or ornemental) had been retrieved from the Banteay site at the date of this publication, in 2014.
Jean-Baptiste "JB" Chevance
After graduating from École du Louvre in 1997, and obtaining a PhD in Khmer Archeology in 2011 at Sorbonne-Paris III University, Jean-Baptiste Chevance has focused his research on the Phnom Kulen Mountain, 25 miles north-east from Angkor proper.
Prospecting the mountainous area right after the demise of the Khmer Rouge guerilla, the archeologist has worked with EFEO, INRAP and Apsara Authority, lauching in 2007 the Archaeology and Development Foundation (ADF), devoted to the preservation of the Phnom Kulen site.