Buddha-Yoga-Siva Hybridity Among The Old Khmer and Siamese
by Troy Dean Harris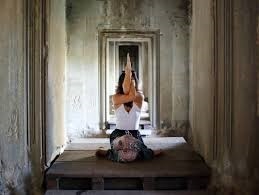 Publication: Journal of the International Association of Buddhist Universities JIABU, Volume V, pp 20-64
Published: 2015
Pages: 46
Language : English
This somehow arduous and deliberately unconventional essay stresses the lasting influence of Brahmanism on Khmer and Siamese-Thai cultures, including the caste (varna)-based social organization and the persistence of ascetic values.
Early Cambodia-Kampuchea was a "citadel of Indianization", the author claims, while religious beliefs developed by the Siamese aggregated many Indic influences.
Also, notes the author, "yoga and asceticism enjoyed great favor in Old Khmer society. Sacred places were set aside and announced in royal epigraphy. Śiva was regarded as the ascetic-yogi par excellence and Cambodia's national god. Grottoes for ascetic practice (tapas, tapasyā) are often mentioned. Speculations on the syllable OM frequently appear in early Khmer writing. The Vat Phu temple overlooking the Mekong River at a distance of about six kilometers was a special place for yoga practice."
Advocating for the use of 'hybridity' instead of 'syncretism', the author concludes that the Southeast-Asian peninsula presented, in George Coedes' own words, a "marvelous variety of civilizing forces existing simultaneously and successively in this region [that] make for a fascinating study and research."
Troy Dean Harris
Troy Dean Harris, ascetic-arts researcher and curator, is the founder of the Sritantra Project, under which name he has published several studies.
He resides between Malabar and the Malaya peninsula. His primary research interests combine the comparative distribution and modification of ancient ascetic-arts elements preserved in contemporary South, Southeast and Far-East Asian soteriological traditions.
Sritantra's publications include "Streams to Healthy Living Yoga: Freeing the Source of the Ancient Bauddha" (2014), "The Savage Buddha: Gautama & the Kāpālika-vrata" (2006), "Grafting Plato's Shadow Play, a spray can version of metaleptic mimêsis" (2006), and "On Laubiès's Work" (1990).
In 2018, the Sritantra Project held a yoga meditation at dawn at Angkor Wat, aimed at "contemplating on the cosmic aspects" reflected by the Khmer temple.