Designs of Kings and Farmers: Landscape Systems of the Greater Angkor Urban Complex
by Scott Geoffrey Hawken
Centralized and decentralized land management in Ancient Angkor
Publication: Asian Perspectives, Vol 52, Number 2, pp. 347-367 | DOI: 10.1353/asi.2013.0010 | University of Hawaii Press
Published: October 2013
Author: Scott Geoffrey Hawken
Pages: 21
Language : English
The relationship between centralized and decentralized planning traditions is here investigated, using a topographic classification of the landscape based on extensive mapping from remote sensed imagery and fieldwork conducted from 2007–2010. Covering about 1000 km2 of rice fields, and including 22,000 km of rice-field bunds, the topographic classification of the rice-field systems reveals two very different ways of building: these two systems are best described as coaxial systems and cardinal systems.
According to the author, 'this classification =contributes to our conception of the landscape structure of the Angkorian and pre-Angkorian periods. Cardinal systems are often found in association with formal settlement complexes and large hydraulic infrastructure established by Angkorian elites. By contrast, coaxial systems are often distinguished by a repetitive pattern of small, similarly aligned local temples and ponds, possibly constructed through more incremental processes accessible to local communities without direct intervention from the state. The lack of tight integration with state infrastructure and spatial administration raises the possibility that the coaxial system originated before the superstructure of the Angkorian state.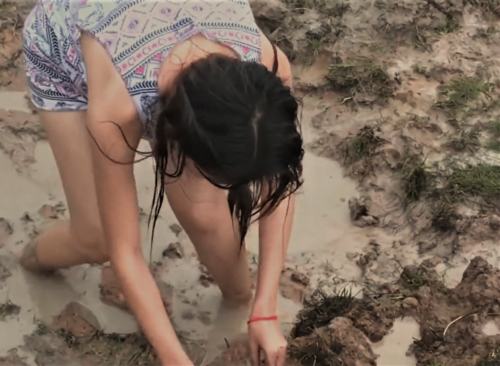 Photos: Cambodian young women fishing in a flooded rice paddy, 2019.
Tags: lidar, agriculture, power, land management

Scott Geoffrey Hawken
Dr. Scott Hawken is a lecturer in the Australian Graduate School of Urbanism, University of New South Wales, Sydney, Australia.
An urban designer, landscape architect and landscape archaeologist, Scott Hawken focuses his expertise in three thematic areas: Smart Cities (Planning and Design), Asian Urbanism, and Ecological Networks and Biophilic Cities.
His work uses a synergistic approach using advanced geospatial technologies and innovative fieldwork approaches within the Asia-Pacific region. He leads the Urban Water Resilience and Sponge Cities Lab which seeks to develop current approaches to blue infrastructure in cities. As a landscape archeologist, he explores issues of socio-ecological resilience over long time frames. Archaeological case studies also highlight the inertia and legacy of massive urban infrastructures.