In Search of Tambralinga's Heartland
by Wannasarn Noonsuk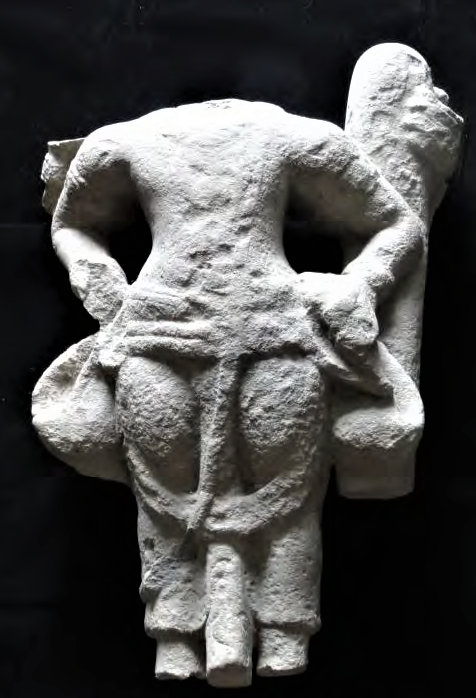 Publication: The Archaeology of Peninsular Thailand Project (ArcPen)
Published: July 2016
Pages: 187
Languages : English, Thai
The research studies the state formation process, cultural landscape, and distribution of archaeological sites in relation to the physical geography in central Sichon District, Nakhon Si Thammarat Province. Peninsular Siam was an important region that opened to Trans-Asiatic Trade and cultural influences since at least the 4th century BCE.
Tambralinga, a significant kingdom, developed in this region on the east coast of Nakhon Si Thammarat Province during approximately the 5th to 11th centuries CE. It was regenerated as Nakhon Si Thammarat Kingdom around the 12th century CE and finally annexed to Ayutthaya Kingdom around the 15th century CE.
Full title: In Search of Tambralinga's Heartland: The Distribution of Archaeological Sites, State Formation, and Cultural Landscape in Central Sichon District, Nakhon Si Thammarat. FULL REPORT.
Photo: A Vishnu statue found at Wat Thanaen, Nakhon Si Thammarat.
Tags: Funan, Khmer Empire, Tambralinga, Thailand, Early Southeast Asia, Angkor Borei, Ayutthaya, Siam, marine archaelogy
Wannasarn Noonsuk
Dr. Wannasarn Noonsuk is currently teaching at the Department of Art of Design at University of California, Fresno. After receiving his doctorate in art history and archaeology from Cornell University in 2012, he also taught at Walailak University, Nakhon Si Thammarat, Thailand, where he is directing the Research Unit for Archaeology.
Dr. Wannasarn was also awarded post-doctoral studies at the École Française d'Extrême-Orient (EFEO) in Paris, directing his excavation program in southern Thailand and publishing a number of books and articles related to early Southeast Asian trade, state formation, and social roles of art.

Among his recent publications: Tambralinga and Nakhon Si Thammarat: Early Kingdoms on the Isthmus of Southeast Asia (Rajabhat Nakhon Si Thammarat University Press, 2013), and, in tribute to his father, reputed Thai archaeologist Preecha Noonsuk, Peninsular Siam and Its Neighborhoods, in Memory of Dr. Preeacha Noonsuk (Rajabhat Nakhon Si Thammarat, 2017).