Jayavarman VII 'Resthouse Temples'
by Mitch Hendrickson
'Shrines of Fire', guesthouses along the Royal Roads, hermitages for traveling worshippers...
Publication: University of Sydney. Abstracts in Khmer and French
Published: 2008
Pages: 17
Language : English
Recent researches on the 'dharmasala' buildings give us a better understanding of their social and religious functions.
On the main Angkorean roads (to Phimai -- northwestbound --, to Kompong Svay -- eastbound -- and to Laos-- northeastbound --), it has now been agreed that "fire shrines" or 'resthouse temples' were established and spaced along the way at regular interval, precisely 14.8 or 16.1 km depending on the orientation of the fareways.
After discussing previous interpretations, the author summarizes the latest findings by writing that "discovery of occupation, water storage and production centres demonstrates that fire shrines are not isolated temples ignored by travellers and pilgrims on their travels to and from Angkor. The fire shrines represent the most visible feature of a greater complex within the Angkorian landscape (...) Further work will no doubt shed more light on the important religious, political, economic and social roles that these buildings played in Angkorian society."
Main photo: a fire shrine at Preah Khan near Angkor.
Tags: royal roads, transportation, dharmasala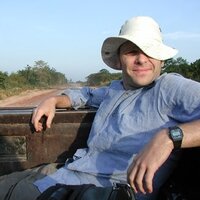 Mitch Hendrickson
Associate Professor at the UIC-Department of Anthropology (Chicago, USA), researcher at the Department of Archaeology, University of Sydney, Australia, Mitch Hendrickson is a landscape archeologist active on various Angkorean sites.
He is the Director of Industries of Angkor Project, Co-Director of the Two Buddhist Towers Project and the Iron and Angkor Project.