Note on Archaelogical Survey and Excavations in North-Eastern Thailand in 1959
by J.J. Boeles
A useful summary of archeological research in Northeastern Thailand at the end of the 1950s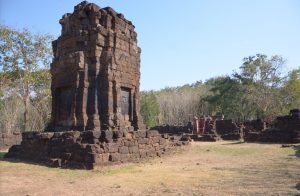 Publication: The Journal of the Siam Society, Vol. XLVIII, Part 2, pp 85-93
Published: November 1960
Pages: 7
Language : English
This article is a recension of Plan and Report of THE SURVEY AND EXCAVATIONS OF ANCIENT MONUMENTS in North-Eastern Thailand, 1959, The Fine Arts Department, Bangkok (1960; 79 p. English).
From the presentation: "Aerial photographs show evidence of the existence in North-Eastern Thailand of more than 200 sites of deserted towns and sanctuaries; many of these have not yet been surveyed. Important progress was made when the Fine Arts Department in 1959 sent out in the field an expedition group to survey, and excavate a number of ancient monuments in that area, mainly belonging to the culture of the Khmer."
Photo: Prasat Hin Khok Prasat, Northeastern Thailand.
Tags: Thailand, Khmer Empire, archaeology

J.J. Boeles
Jan Jetso Boeles (1909, Leeuwarden - ?) was a Dutch independent researcher and photographer based in Thailand for many years.
In 1976-1978, he photographed the Phimai temple and the Wat Sethupon in Bangkok. He directed the Siam Society Research Center, and was an honorary member of the Siam Society since 1960.
He advised the Faculty of Arts at Leiden University in Art and Archaeology of mainland Southeast Asia.