Notes sur la peche du Tonli-Sap (lac du Cambodge) | Notes on Tonle Sap Fishing
by Jean Moura
A detailed description of fishing activities and techniques in the largest lake of Southeast Asia at the end of the 19th century.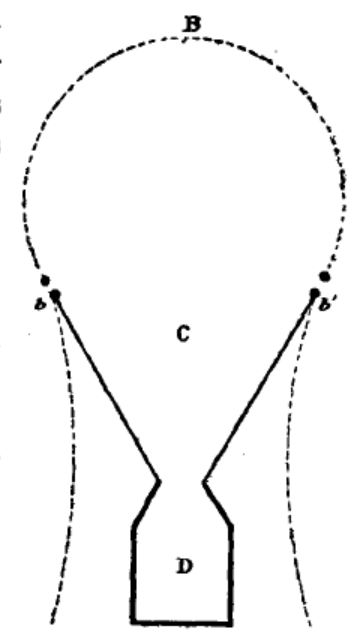 Publication: Revue maritime et coloniale, LXI, March-June 1879, pp 535-53 | via gallica.bnf.fr
Published: March 1879
Author: Jean Moura
Pages: 19
Fish species caught in the Tonle Sap, and generally salted for consevation[ we kept the author's phonetic transliteration of Khmer terms. Trei ត្រី means fish. Vietnamese names are listed by the author because of the number of fishers from Annam, and the importance of exports to Annam and Cochinchina]:
trey-reach ('ca dau' in "Annamite" [Vietnamese])
trey-tra (viet. ca tra) with 3 subspecies including trey-pra-kleung
trey-chdo (viet. ca boug)
trey-ras (viet. ca loc)
trey-tipo (viet. ca po)
trey-chhlang (viet. ca lang)
trey-pra-ré (viet. ca hù)
trey-keo (viet. ka ket)
trey-chhkok (viet. ca coc), also used for making glue
trey-kaec (viet. ca ec)
trey-pruol (viet. ca du'ou) [not eaten during high waters season in modern Cambodia]
trey-col-rang (viet. ca ho)
trey-pralung (viet. ca chay)
trey-toc (viet. ca tren doc)
trey-kaya (viet. langna)
trey-tipo-pruy
trey-pama (viet. ca su)
trey-thca (viet. ca dao)
trey-chhlam (viet. ca map)
During the fishing season, 'no less than 12,000 to 14,000 people live on the lake shores, including women and children".
The main fishing method observed is with large seine nets, 11 to 12 m long, 1.8 m high, 'called "mea" (uncle)' according to the author [who probably wrongly transcribed "vea", as in សុទ្ធរបស់វា, sotth robsa vea, large fishnet], and manned by 30 to 50 fishers on rowboats.
On both Siamese and Cambodian sides, taxes are generally collected by Chinese agents appointed by the respective kingdoms.
Photo: Drawing of a seine deployment in the Tonle Sap (by the author).
Tags: fishing, Tonle Sap, material culture, economy, 19th century, commerce

Jean Moura
Jean Moura (3 Apr 1827, Moissac, France - 17 May 1885) was a French Navy officer, civil administrator, Khmerologist and explorer who authored one of the first exhaustive descriptions of Cambodia and Angkor, Le Royaume du Cambodge (1883).
While lieutenant de vaisseau (Lt.) Moura was thrice the 'Representative of the French Protectorate' in Cambodia (from 20 Feb.1868 to 10 March 1870, from 1st Jan. 1871 to 1st May 1876, and from 9 Nov. 1876 to 6 Jan. 1879), he developed a great interest in the geography, archeology and history of the country.
Back in France from 1879, he donated to the Musée de Toulouse numerous pieces he had collected in Cambodia, in particular from the Neolithic site of Somrongsen (Kompong Chhnang Province, southeast of the Tonle Sap), discovered in 1875 by F. Roque, later studied by French archeologist H. Mansuy, and which it had visited in 1876.
In April 2022, Cambodian Minister of Culture and Fine Arts HE Phoeurng Sackona ភឿង សកុណា published her translation into Khmer of Moura's diary, De Phnom-Penh à Pursat en compagnie du Roi de Cambodge et de sa cour, relating a journey across Cambodian provinces and around the Tonle Sap Lake on elephants hosted by King Norodom Ier, in which Moura had been the only foreigner invited.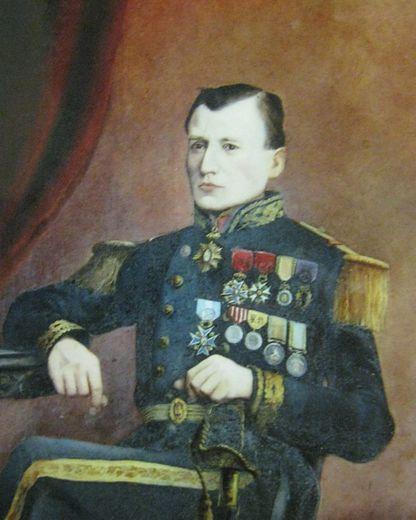 A portrait displayed during the conference "L'aventure de l'officier de marine moissagais Jean Moura au pays de la grande civilisation Khmer" by René Pautal, Moissac, France, Oct. 2010 (Photo La Depeche du Midi)