The Archaeology of early contact with India and the Mediterranean World, from the 4th century BC to the 4th century AD
by Bérénice Bellina-Pryce & Ian Glover
How global trade, spices and maritime routes impacted the links between India and ancient Southeast Asia.

Publication: in Southeast Asia, from the Prehistory to History, London, Routledge/Curzon Press, Chap 4, pp 68-89
Published: 2004
Authors: Bérénice Bellina-Pryce & Ian Glover
Pages: 21
Language : English
In her conclusion, the author notes: "A generation ago, on the basis of the few items then known to be derived from India or the Roman world, Wheeler [Wheeler, R. E. M., Rome Beyond the Imperial Frontiers, Harmondsworth, Penguin, 1954, andd with Ghosh, A. and Deva, Krishna, "Arikamedu: an Indo-Roman trading station on the east coast of India", Ancient India 2: 17–124, 1946.] was perhaps correct to argue that there were only sporadic exchange visits between communities situated on both sides of the Bay of Bengal. Enough evidence is now at hand to refute this interpretation and to show that, by the late centuries BC, Southeast Asia was already part of a world trading system linking the civilizations of the Mediterranean Basin and Han China. Thus, the process of Indianization had long roots reaching back into prehistory."
India-Southeast Asia links in phases
"A study of the different traded materials allows us to confirm the existence of two distinct phases. The first seems to start about the fourth century BC and to end around the second century AD. The scattered evidence of this phase (Phase I) enabled the Dutch historian Van Leur to refer to regular but less intense and archaeologically less-visible contacts that preceded Indianization. During Phase II (second–fourth century AD), intra and interregional exchange intensified. From about the mid fifth century AD, fully Indianized kingdoms appear in Burma, Thailand, Cambodia, coastal Vietnam and western Indonesia."
The role of spices
"As an example of the demand for exotic products in the west, one need only look at the spice trade and particularly at the trade in cloves, the unopened flower buds of the tree Eugenia aromatica, whose home was in the northern Moluccan islands of eastern Indonesia. Cloves were already known in China in the third century BC, and were described by Pliny in Rome in the first century AD. At the production end, the trade in cloves, nutmeg and mace transformed Moluccan society from scattered kin-based communities of hunter-gatherers and shifting cultivators to stratified coastal trading states and petty empires. As one author has pointed out [Ellen, R. F. (1977) "The trade in spices", Journal of the Indonesia Circle 12: 21–5.], 'it was the spice trade which was partially responsible for the Indianization of Southeast Asia and which later facilitated the spread of Islam. So this western demand for an aromatic flower bud of rather little value to the native peoples of the Moluccas transformed, in the long run, the economic and political face of Asia.'"
ADB Input: In another essay, Berenice Bellina has discussed the question: "Was there a late prehistoric integrated Southeast Asian maritime space? Insight from Settlements and Industries" [in Spirits and Ships: Cultural Transfers in Early Monsoon Asia, ed. Andrea Acri, Roger Blench, Alexandra Landmann, 2017, ISEAS – Yusof Ishak Institute, chap 6, pp 239-272], concluding: "The study of settlements and crafts help us formulate the hypothesis of a late prehistoric maritime Southeast Asian integration area where common socio-political practices were elaborated. I believe that the late prehistoric period and the entrance of the region into a wider trans-Asiatic network corresponds to the elaboration of an urban tradition that prefigures the later port-cities that thrived across the South ChinaSea. In this urban tradition, the elites may have referred to regional as well as Indian models. (...) A core characteristic of this South China Sea network culture is its capacity to adopt and exaggerate any foreign innovations serving socio-political strategies. This behaviour has been emphasized before by researchers such as Oliver Wolters (1999), thus suggesting a continuity in cultural practices."
Photo: A copper coin of Western Roman Emperor, Victorinus (AD 268-70) found at U-Thong, Thailand (photo by I.C. Glover)
Tags: India, Southeast Asia, Indianization, spices, maritime trade, Roman Empire, Mediterranean, prehistory, Funan, China, Bay of Bengal, global trade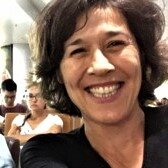 Bérénice Bellina-Pryce
A senior researcher with CNRS (France), Dr Bérénice Bellina-Pryce has directed since 2005 the Thai-French Archaeological Mission in Upper Thai-Malay Peninsula, excavating and surveying in the Chumphon and Ranong provinces.
Her research focuses on exchange and cultural transfer processes around the Indian Ocean, and more specifically between the Bay of Bengal and the South China Sea, using technological analysis of industries as a means to comprehend sociopolitical transformations, and to reconstruct the impact of long-distance exchange and local resource acquisition on ethnicity and identity construction.
Ian Glover
A leader in the field of Southeast Asian archaeology, Prof. Ian Carvel Glover (24 Apr. 1934, Grange-over-Sands, Lancashire, England - 23 Apr. 2018, Catania, Sicily) was a pioneer archaelogist and educator.
He joined the Institute of Archaeology at UCL, London, and retired in 1996 as Reader in the Archaeology of Southeast Asia. As an archaeologist, he was involved in major field projects in Southeast Asia, starting with excavations in East Timor as part of his PhD fieldwork. In the late 1960s to mid 1970s, Glover excavated the Ulu Leang 1 and 2, and Leang Burung 2 sites in South Sulawesi. In the 1980s, he co-directed with Pisit Charoenwongsa, an excavation of the Ban Don Ta Phet cemetery in west-central Thailand. In the 1990s, he was involved in excavating the Cham period sites of Tra Kieu and Go Cam in central Vietnam.
Ian Glover also played a significant role in establishing organisations to promote research and exchange of information on Southeast Asian archaeology. He was a founding member of the Indonesia Circle at the School of Oriental and African Studies (SOAS) and in 1986, co-founded the European Association of Southeast Asian Archaeologists (EurASEAA) with Peter Bellwood. Glover also served on the editorial board of World Archaeology, and was editor of the Journal of the Indonesia Circle and the Journal of the Siam Society.