The Art of Sastra (Palm Leaf Manuscripts)
by Phnom Penh Post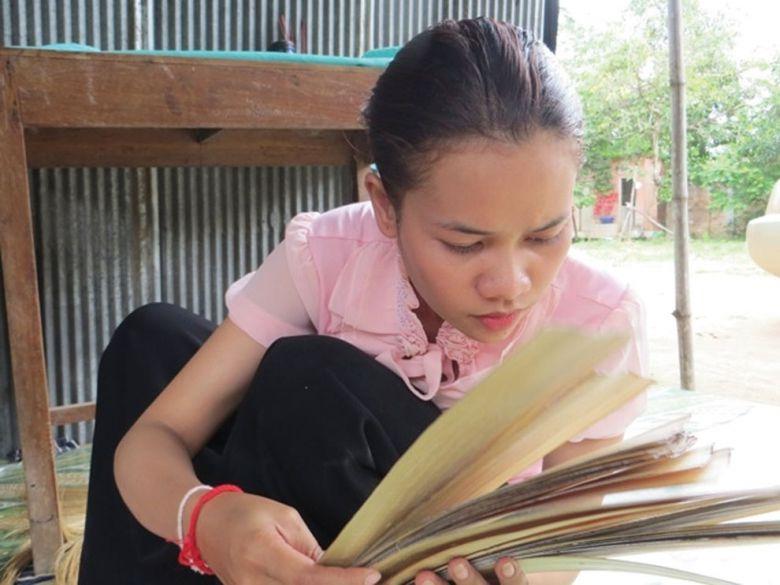 Publication: by Sen David and Kith Kaliyann
Published: September 19th, 2015
Pages: 1
Language : English
The tradition of sastra sleuk rith goes back to Angkor times. Young craftswoman-artist Phoeun Sophavy revived it recently.
Sophavy believes she is playing an important part in keeping an otherwise dying art alive. Under the Khmer Rouge, when 80 per cent of pagodas had their library collections destroyed, a huge number of old sastras were lost. Today, resources are still put into preserving the texts that remain from before 1975, but few people are actively making new sastras.
Watch the film about Sophavy, ស្លឹករឹត ជីវិតខ្ញុំ (Sleuk rith, my life), by Nokor Funon (in Khmer, English subtitles)
In 2017, Cambodian Prime Minister Hun Sen pledged to buy as many sastra sleuk rith manuscripts as Siem Reap craftswoman Phoeun Phavy can produce.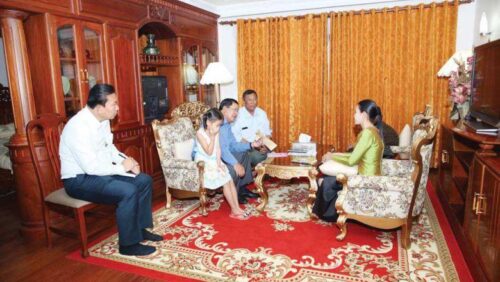 Phoeun Pavy at work in 2015; with Prime Minister Hun Sen in 2017 (Photos by The Phnom Penh Post)
Tags: Khmer handicrafts, sastra, Khmer religion, Khmer culture
Phnom Penh Post
The Phnom Penh Post is a daily English-language newspaper published in Phnom Penh, Cambodia.
Founded in 1992 by publisher Michael Hayes and Kathleen O'Keefe, it is Cambodia's oldest English-language newspaper, and the only international-award-winning press outlet in the Kingdom.